By Dennis Crouch
In a recent post, Tracy-Gene Durkin outlined some issues associated with GUI-based design patents. These design patents essentially cover computer images that are shown on a screen, such as a computer display or smartphone. I have written before that this type of patent is somewhat problematic because of its likelihood to impinge on free speech protections. I created the chart below of the number of these type of patents issued each year since 2005. In the PTO's design patent classification system, these all fall within classes D14 / 485 – 495. The forecast for 2013 is also included.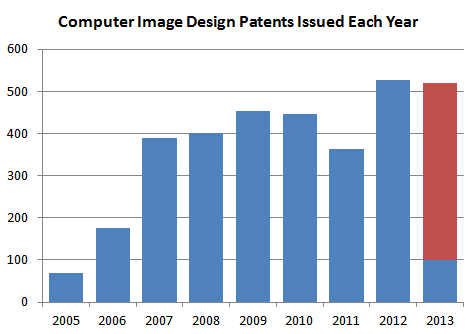 Who is getting these icon design patents?: Microsoft. The software company has obtained 44% of the GUI-based design patents issued since 2005. Samsung & Apple are both big players in this market with around 5% each. Only 1% of the icon design patents are unassigned at issuance. This contrasts with the 22% of all design patents that are unassigned at issuance.
Pepsi holds over 40 icon design patents that appear to simply be advertisement drawings such as the "DEW" design patent shown below. U.S. Patent No. D.618,251.