Dr. Tu is an Associate Professor of Law at the West Virginia University College of Law and a shareholder in Patent Advisor. His research focuses on the patent examination system. – Jason
Previous posts (https://patentlyo.com/patent/2012/11/guest-post-the-rce-cliff.html and https://patentlyo.com/patent/2012/11/patent-stats-for-fy-2012.html) have reviewed the increase in RCE filings with a concurrent increase in the RCE backlog.  On average, there is a 5.9 month pendency from RCE filing to the next Office Action.  However, this number may be deceptive since it is an average across all art units.  Anecdotally, some art units experience much longer pendency periods.
To determine which art units experience the longest / shortest RCE response time, we turned to the Reed Tech Patent Advisor™ information system (www.patentadvisor.com).  This online information system includes patent office statistics derived from a collection of file histories encompassing most every published application since 2002.  Our method was to count every RCE with no corresponding next significant action (i.e., with no corresponding next Office Action, Notice of Allowance or Notice of Abandonment).  We then segmented the data by art unit.  Thus, for each art unit, we determined the number of RCEs pending response as of December 31, 2012.
The figure below displays the results of our analysis. Each pie piece represents a specific technology center.  Within each pie piece are circles that represent individual art units within the technology center. The top number in each circle identifies the art unit, while the bottom number represents the art unit's count of RCEs pending as of December 31, 2012.  The individual art unit circles are also color coded to help visualize the relative significance of the backlog within each tech center.  Dark blue represents a large backlog, while light green represents a shorter backlog.  Additionally, the size of each circle is directly proportional to the size of the art unit's RCE backlog.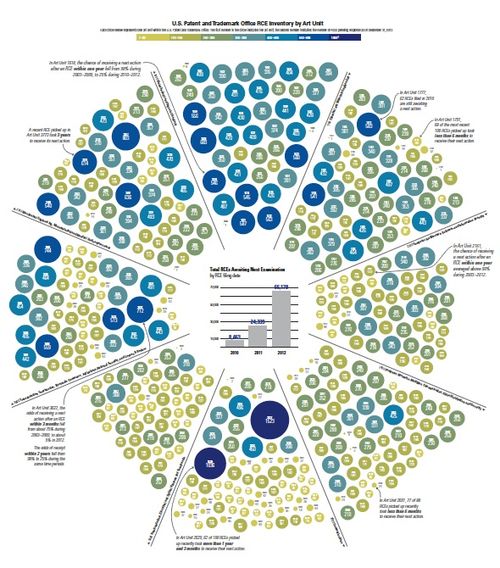 Accordingly, one can clearly see a greater number of RCEs present in technology center 1600 (Biotechnology and Organic Chemistry) when compared to technology center 2800 (Semiconductors, Electrical and Optical Systems and Components).  This may be unsurprising since biotechnology applications may require significantly more review time, or specialized knowledge compared to electrical applications.  Similarly, one can see that certain art units have a greater backlog, even within the same technology center.  For example, 2617 (Cellular Telephony) and 2629 (Display Systems) have a much greater backlog when compared to other art units within technology center 2600 (Communications).  Again, this may be unsurprising since many more applications are filed dealing with cellular telephone technology (4,757 pending applications in art unit 2617) compared to fax technology (903 pending applications in art unit 2627). Accordingly, examiners in fax technology may be more willing and/or able to pick up more RCEs from their special docket compared to those examiners in cellular telephone technology.  Mitigating this issue, may be a higher number of examiners in art units with a higher number of pending applications.  As discussed below, we did not calculate the number of active examiners present in each art unit.
In the center of the figure is a bar graph that shows the overall number of RCEs in the entire patent office that are awaiting examination broken down by year.  This figure shows that there is a significant number of RCEs filed in 2012 that are still awaiting examination.  This number is unsurprising since RCEs should be taken in turn, and there is a selection bias against later filed RCEs.  Accordingly, one would expect the number of RCEs in 2012 to be greater in number since they will be taken up by the examiner later than an RCE that was filed in 2010.
There are two key limitations with this dataset.  First, we have intentionally excluded data regarding average response time for responding to an RCE for each art unit.  This is because the RCE pendency data is skewed because we do not count an RCE until it has been acted on.  Thus, all of the unexamined RCEs could not counted when calculating an average response time.  Accordingly, the average response time would be misleading.  Second, we did not determine the number of active examiners in each art unit.  Thus, although the backlog may look high in absolute numbers, the response time may be reasonable simply because it is spread over a large number of active examiners.
The RCE backlog cannot be solved simply by adding new examiners.  This is due to the count system which gives incentives for examiners to pick up new cases rather than take up an old RCE.  Additionally, new examiners cannot help pick up RCEs that are already on another examiner's "special new" docket. These data suggest that the PTO should address art unit-specific pendency data when thinking of solutions to the RCE-backlog problem.  Specifically, the PTO may consider requiring examiners from specific art units to pick up more than one item per month from his/her "special new" docket.  Alternatively, the PTO may consider readjusting the count system to incentivize examiners to pick up RCEs.  Finally, the PTO may consider placing RCEs back on the "amended" docket instead of the "special new" docket, which would require examiners to act on an RCE within two month of its appearance on the examiner's docket.
These data suggest that practitioners should use this type of art unit-specific pendency data provided by services such as Reed Tech Patent Advisor™ when counseling their clients.  This online service enables its users to easily access a comprehensive break down of the RCE docket for each individual examiner and each individual art unit.  Understanding the possible consequences of filing an RCE should help clients make rational decisions about: (1) challenging the propriety of a "final" designation in an office action, (2) filing a continuation application instead of an RCE (Both RCEs and CONs are placed on the examiner's "special new" docket, but RCEs can be given less counts.  However, PTA considerations may justify filing an RCE instead of a CON),  (3) making amendments to the claims prior to issuance of a first office action, and (4) drafting the strongest first response as practical, which may include adding dependent claims and/or conducting interviews before issuance of a final office action.  Each of these actions may be more costly for clients in the short run, but save months if not years of time in the long run.
Download a PDF of the above chart here: Download 130324 Poster Graphic Only