by Dennis Crouch
We all get frustrated. After an examiner rejected his client's application for a telescoping tripod sprinkler, patent attorney Andrew Schroeder could no longer resist and filed the following remarks:
REMARKS: Are you drunk? No, seriously…are you drinking scotch and whiskey with a side of crack cocaine while you "examine" patent applications? (Heavy emphasis on the quotes.) Do you just mail merge rejection letters from your home? Is that what taxpayers are getting in exchange for your services? Have you even read the patent application? I'm curious. Because you either haven't read the patent application or are… (I don't want to say the "R" word) "Special."
Numerous examples abound in terms of this particular Examiner not following the law. Clearly, the combination of references would render the final product to be inoperable for its intended use. However, for this Special Needs Examiner, logic just doesn't cut it. It is manifestly clear that this Examiner has a huge financial incentive to reject patent applications so he gets a nice Christmas bonus at the end of the year. When in doubt, reject right?
Since when did the USPTO become a post World War II jobs program? What's the point of hiring 2,000 additional examiners when 2,000 rubber stamps would suffice just fine? So, tell me something Corky…what would it take for a patent application to be approved? Do we have to write patent applications in crayon? Does a patent application have to come with some sort of pop-up book? Do you have to be a family member or some big law firm who incentivizes you with some other special deal? What does it take Corky?
Perhaps you might want to take your job seriously and actually give a sh.t! What's the point in having to deal with you Special Olympics rejects when we should just go straight to Appeals? While you idiots sit around in bathtubs farting and picking your noses, you should know that there are people out here who actually give a sh.t about their careers, their work, and their dreams.
Your job is not a joke, but you are turning it into a regular three ring circus. If you can't motivate yourself to take your job seriously, then you need to quit and let someone else take over what that actually wants to do the job right.
See U.S. Patent Application No. 13/068530 (PAIR). [Update: It appears that the PTO has now removed the letter from the file history.] Perhaps we should have a contest to rewrite this letter to get the same substantive points across without violating any rules of professional conduct.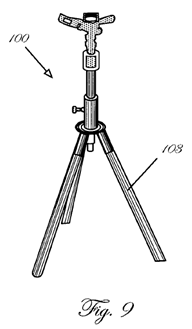 The pending claims are listed as follows:
1. A Telescoping Tripod Sprinkler Cart comprising
a tripod junction unit, a plurality of support members, a sprinkler support assembly, and a telescoping assembly;
the tripod junction unit comprises a first leg, a second leg, and a hose conduit;
the plurality of support members are sized to mate with the legs;
the legs comprise a detent orifice sized to mate with a detent on a support member;
the support members comprise a detent for the purpose of fastening the support member to the tripod junction; and
the sprinkler support assembly is connected with the hose conduit of the tripod junction.
2. The Telescoping Tripod Sprinkler Cart of claim 1 further comprising a carriage assembly; the carriage assembly comprises an axle, an axle housing, a pair of wheels, and a pair of struts.
In the final rejection, the examiner found the claim 1 unpatentable over Richey (U.S. Patent No. 2,694,600) in view of Nies (U.S. Pub. No. 2009/0230206) and in further view of Harward (U.S. Patent No. 4,824,020) and claim 2 unpatentable in further view of Ward (U.S. Patent No. 5,484,154).