By Dennis Crouch
The United States International Trade Commission (USITC) is a US-based agency tasked with the goal of protecting US domestic industry against improper foreign competition. The law provides that one form of improper foreign competition is the unauthorized importation of patented goods. See 19 U.S.C. 1337 ("Section 337"). A patentee has the power to separately allege patent infringement at the USITC or in Federal Court. There is also no prohibition against both actions being brought at once. One distinction is that the only remedy available from the USITC is blocking importation of infringing goods. However, the USITC is not bound by eBay v. MercExchange, and thus, the likelihood of a winning patentee being awarded injunctive relief is much greater.
Some commentators have argued that the USITC is improperly supporting the activities of patent licensing companies. However, in a recent four-page report, the USITC has offered a defense against those accusations. The agency notes that, since eBay v. MercExchange, the about 20% of the instituted investigations are associated with patent licensing companies who do not themselves practice the invention. That figure is well below the numbers seen in federal district courts. Further, in that same time period, only four patent licensing companies have obtained exclusion orders (injunctive relief).
USITC: FACTS AND TRENDS REGARDING USITC SECTION 337 INVESTIGATIONS
In general, the number USITC 337 investigations is on the rise. However, the number of patent licensing company (NPE) lawsuits has remained relatively small.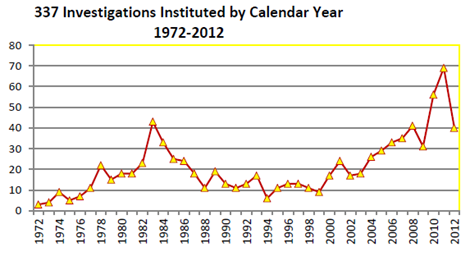 Game Theory: Patent licensing companies generally make money when others use the patented technology – that is where the licensing royalties come into play. And, apart from artificially shifting supply, licensing companies do not make money by excluding others. Thus, one question that arises is why a patent licensing company would file suit in the USITC since the only result is injunctive relief? One solution is to change the law the USITC has the power to award ongoing royalties when a patentee is willing to license the asserted patent rights.