By Dennis Crouch
Bruce Saffran v. Johnson & Johnson (Fed. Cir. 2013)
Claim construction has become the most highly contentious issue in patent litigation.  A difficulty with claim construction is that the question does not involve a yes/no answer.  Rather there are a wide variety of possible constructions for any claim element.  Thus, the likelihood of a court randomly picking the correct construction is quite low. And, as it turns out under the rules of de novo review, even when the lower court applies reason and evidence to the problem it it often arrives at the wrong answer. That wrong answer leads to a reversal of the claim construction on appeal.  To be clear, claim construction falls in line with the normal plaintiff/defendant divide. Plaintiffs (patentees) tend to prefer no construction and just let the jury figure out whether the claims are infringed.  Defendants (accused infringers) see claim construction as a mechanism for removing the case from the jury based on the technicality.  Thus, most serious claim construction arguments are designed around the prospect that a favorable decision will lead to summary judgment for the defendant.  Although we often hear of "overly broad" patent claims, the reality is that some defendants ask for a narrow construction in order to build their non-infringement argument while other defendants ask for a broad construction in order to build their invalidity argument.  Of course, the high burden associated with proving invalidity tends to make the first approach a better strategy. In addition to the myriad potential constructions for each term, a typical patent claim has dozens of potentially disputed claims – making the combinatory possibilities quite large.
Background: This case involves Dr. Bruce Saffran's U.S. Patent No. 5,653,760 that claims the treatment of damaged living tissue by covering the tissue with a selectively permeable barrier that could be wholly introduced or applied as a spray. As designed, the device could then allow for the release of a treatment drug that would be able to pass through the membrane while larger molecules would be blocked. The specification explains that the selectively permeable membrane would be useful in the stent market in order to protect blood vessel cells as they regenerate. Saffran previously settled with Boston Scientific for $50 million. In this case he won a $500 million verdict (plus interest) against J&J for its infringing stents.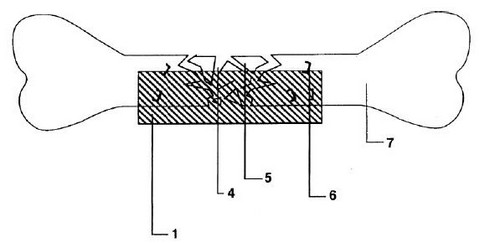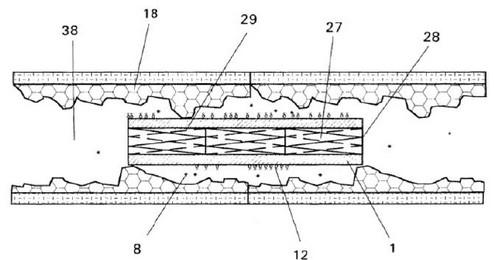 In a divided opinion, the Federal Circuit has flipped the verdict — finding that the lower court had erred in claim construction and that under the proper construction J&J's stents do not infringe.
The decision is interesting because it includes three opinions that all agree in the judgment reversal, but each disagrees as to the correct construction. In all, four judges have considered the claim construction and have come out with four different claim constructions. The basic dispute is over two claim terms:
"Device": Whether that term should be interpreted to require a sheet.
"Means for release of … treating material": Whether the means can generally include chemical bonds and linkages or only hydrolyzable bonds.
The four judges outcome on these two questions is shown in the two-by-two table below.
   

Claimed means limited to hydrolyzable bonds

Claimed means includes chemical bonds and linkages

"Device" requires sheet

Judge Lourie –

No Infringement

Judge Moore –

No Infringement

"Device" does not require sheet

Judge O'Malley –

No Infringement

Judge Ward –

Infringement
Whither Cybor: The Federal Circuit is currently reconsidering whether Cybor was correctly decided – i.e., whether deference should be given to the lower court claim construction ruling. If deference had been given, it may well be that Judge Ward's opinion would have carried the day – with the resulting conclusion that the $500m verdict should be upheld. As others have written, that result does not actually solve real problems — only masks them.