Two-Way Media v. AT&T, SA-09-c-476 (W.D. Tx. 2013)
Interesting jury verdict for Two-Way Media where a jury found that that AT&T infringes a total of seven claims coming from two different patents owned by the plaintiff and awarded $27 million in damages. U.S. Patent Nos. 5,778,187 and 5,983,005. The jury found no literal infringement but only infringement under the doctrine of equivalents.
The patents are part of a family of patents claiming a method of multicast-streaming. Infringed claim 1 is broadly written and listed below:
1. A method for transmitting message packets over a communications network comprising the steps of:
converting a plurality of streams of audio and/or visual information into a plurality of streams of addressed digital packets complying with the specifications of a network communication protocol,
for each stream, routing such stream to one or more users,
controlling the routing of the stream of packets in response to selection signals received from the users, and
monitoring the reception of packets by the users and accumulating records that indicate which streams of packets were received by which users, wherein at least one stream of packets comprises an audio and/or visual selection and the records that are accumulated indicate the time that a user starts receiving the audio and/or visual selection and the time that the user stops receiving the audio and/or visual selection.
The patent itself was subject to a third-party requested reexamination and the USPTO confirmed that all claims were patentable without amendment.
The patents themselves were originally owned by Netcast Communications. That company was founded by Jim Butterworth with the help of Antonio Monteiro. The pair received a number of patents covering various aspects of streaming technology. When Netcast closed operations, Butterworth founded Two-Way Media as the new patent holder and still runs the company. As streaming technology moved forward, these patents have become more valuable and the company has sued several others for infringement, including Akamai, Limelight, and AOL. Those cases all settled.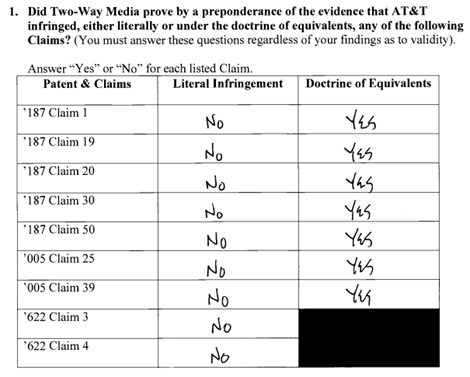 Among the motions in limine granted before trial, Judge Garcia ordered AT&T's attorneys to (1) not mention the contingency fee arrangement between Two-Way and its attorneys at Susman Godfrey and (2) not use any language that would denigrate the patent system.
I suspect that we'll have an appeal in this case that will focus on the doctrine of equivalents.