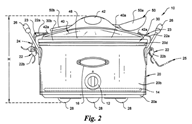 Hamilton Beach Brands, Inc. v. Sunbeam Products, Inc. (Fed. Cir. 2013)
In a split decision, the Federal Circuit has affirmed a lower court ruling that Hamilton Beach's asserted patent claims are invalid under the on-sale bar of (pre-AIA) 35 U.S.C. 102. The patent at issue is U.S. Patent No. 7,947,928 and relates to a slow-cooker or crockpot. (I use it generically, but "Crock-Pot" is a brand whose trademark is held by Sunbeam.) The original specification focused on a pot with an integrated spoon in the lid. In the second-continuation, Hamilton Beach responded to Sunbeam's new product by refocusing the claims on a pot with a latched top.
The priority application was filed in March 2006. More than one year prior (In February 2005), Hamilton Beach issued a purchase order for 2,000 slow cookers from a foreign supplier but to be delivered to its US warehouse. That order was confirmed by the supplier that same month and manufacturing would begin once Hamilton Beach provided its "release." Hamilton beach did not provide the release until after the one-year critical date and no products were manufactured or sold until after that critical date.
The On-Sale Bar of (Pre-AIA) 102(b) will invalidate a patent when the invention was sold or offered-for-sale more than one year before the filing date. The trick here to finding an offer-for-sale is to think in reverse – the supplier is selling the products to the patentee. Thus, the commercial offer-for-sale occurs when the supplier says "we'll make it once you give your release." In patent law, an offer for sale is one where the other party only needs to accept in order to create a binding contract for sale. Here, the supplier's confirmation satisfies that definition. As Judge O'Malley writes:
Hamilton Beach's supplier responded prior to the critical date that it was ready to fulfill the order. In other words, the supplier made an offer to sell the slow cookers to Hamilton Beach. At that point, the commercial offer for sale was made and, under the governing corporate purchase agreement, Hamilton Beach could accept the offer when it so pleased. And, Hamilton Beach concedes, as it must, that, had it provided a "release" any time after it received that email, a binding contract would have been formed.
The statute requires that an offer for sale of the invention invalidates the patent and here, this offer satisfied that statutory requirement.
Writing in Dissent, Judge Reyna argued that the transactions should not be seen as a commercial offer for sale, but rather an experimental use.
The decision here is one that calls to mind the large literature on company structure. The patentee lost here because it chose to outsource manufacture in a particular way (through a purchase contract). Hitting on that point, Judge Reyna writes: "My greatest concerns involve the implications this case will have for future innovators, most notably small enterprises and individual inventors who lack in-house prototyping and fabricating capabilities." Of course, it turns out that most US product companies (not just small enterprises) outsource some amount of manufacture.