By Dennis Crouch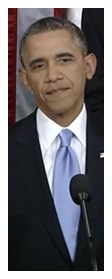 President Obama provided a one-liner on patent law in his recent State of the Union address:
We know that the nation that goes all-in on innovation today will own the global economy tomorrow. This is an edge America cannot surrender. Federally-funded research helped lead to the ideas and inventions behind Google and smartphones. That's why Congress should undo the damage done by last year's cuts to basic research so we can unleash the next great American discovery – whether it's vaccines that stay ahead of drug-resistant bacteria, or paper-thin material that's stronger than steel. And let's pass a patent reform bill that allows our businesses to stay focused on innovation, not costly, needless litigation.

The USPTO (as part of the Obama Administration) has already thrown its weight behind new patent reform efforts as well. The Goodlatte Innovation Act (H.R. 3309) has already passed in the house with a 325-91 vote. In the Senate, Judiciary Committee Chair Leahy has proposed the Patent Transparency and Improvement Act (S. 1720) and that proposal is currently in committee. The proposals would include a number of reforms designed to hamper patent enforcement; provide transparency of ownership; and force more targeted early disclosures in patent cases.