By Dennis Crouch
Vederi v. Google (Fed. Cir. 2013)
This case arises from a decision by Alex Kozinski who is Chief Judge of the Ninth Circuit Court of Appeals who sat by designation in deciding on summary judgment that Google's streetview product does not infringe Vederi's asserted patents. U.S. Patent Nos. 7,239,760; 7,577,316; 7,805,025; and 7,813,596. Through his role on the Ninth Circuit, Judge Kozinski has played an important role in the development many areas of intellectual property and internet law. However, as with Judge Posner of the Seventh Circuit, Judge Kozinski has largely been denied any direct input in the patent context.  Here, that denial continues as the Federal Circuit has vacated Judge Kozinski's decision — finding that Judge Kozinski erred in his claim construction that resulted in a non-infringement determination.
The patent here covers the method of mounting a set of cameras atop an automobile to capture images as the vehicle moves throughout a geographic area. Those images are then integrated with into a system that allows virtual visual navigation.
All of the asserted claims include a limitation that the views be "substantially elevations" Here, the term elevation appears derived from architectural usage meaning a flat representation of one façade of a structure and the Google Streetview images are better thought of as a perspective view. This difference can be seen somewhat by comparing Jefferson's Rotunda sketch with a photograph of the Rotunda.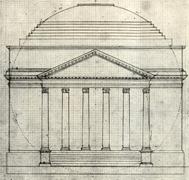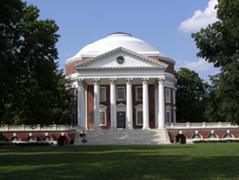 Judge Kozinski found that the Google Streetview images were not elevation views because they show images that are curved representation of the world.
On appeal, the Federal Circuit found that Kozinski's view of something being substantially an "elevation" view was too limiting based upon the intrinsic evidence. In particular, the patent specification discloses the use of a fish-eye lens to create a photograph of the street in "substantially elevation" form. In the usual case, a fish-eye photo of a building will not be in elevation form but instead provide a curved representation of reality. The result then, according to the Federal Circuit, is that the "substantially" element of the claim provides substantial leeway on the meaning of elevation. The broader claim construction means that now Google may well infringe.
= = = =
An interesting element of the provisional priority document (filed in 2000) is that it includes a listing of the actual software code for taking the GPS and image data to create panorama views and allow a user to navigate through those results. The inventors here, Enrico Di Bernado and Luis Goncalves actually built the system back in 2000 while graduate students at Caltech by attaching a set of cameras and a GPS monitor atop Di Bernado's car and driving around Pasadena. The results were then made available on the City of Pasadena website.