By Dennis Crouch

In re Rudy (Fed. Cir. 2014)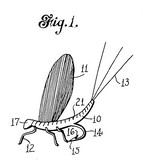 Back in 1988, Christopher Rudy filed a patent application for a fishing hook that is both colored and translucent. An illustrative pending claim is as follows:

21. In an article of manufacture, which is a fishing hook, which is disintegrated from but is otherwise connectable to a fishing lure or other tackle and has a shaft portion, a bend portion connected to the shaft portion, and a barb or point at the terminus of the bend portion, thus itself not being a fishing lure to include a fishing lure in imitation of an insect or part of an insect to include an insect body, and which is made of suitable material, the improvement comprising where the hook is made of a suitable material, which permits transmittance of light therethrough and is colored a color, selected from the group consisting of red, orange, yellow, green, blue and purple, in nature.
In reading the claims, you might think that this is an abstract idea case since the invention is based upon the law of nature or abstract idea that the translucence and color of a fishing hook correlate with a fish's proclivity to bite and, although the patent does claim a physical hook, that application merely uses well known technology in a way that basically occupies the same space as the abstraction itself. 
However, the PTO rejected the claim under 35 U.S.C. § 103 as obvious in light of the prior art. The prior art apparently teaches transparent fishing hooks as well as fishing hooks that are both translucent and colored but that are shaped like insects. Although neither of those references teach all of the elements of the claim, the USPTO found that it would have been obvious back in 1988 to combine the references to form Rudy's invention. Rudy submitted a number of affidavits explaining the invention's importance. However, the USPTO found those statements from the inventor and his "friends and family" to be insufficiently anecdotal to overcome the rejection. On appeal, the Federal Circuit has affirmed the rejection without opinion.

The only interesting part of the oral arguments came when the court asked the USPTO to explain why the case was still alive and pending after 26 years. The USPTO placed full blame on Mr. Rudy. Explaining that "Mr. Rudy is a very zealous advocate on his own behalf." In particular, during this time Mr. Rudy has apparently filed thirteen amendments to the claims; seven petitions; eight extensions of time; twenty nine miscellaneous letters; enjoyed three appeals; and has abandoned his action only to later revive it to be considered again.

On remand, I expect that Rudy will amend his claims and try again.