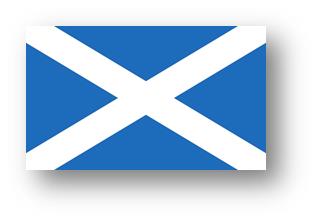 Guest Post Author – Peter Arrowsmith, partner and (Scottish) patent attorney at Cleveland (p.arrowsmith@cleveland-ip.com).

Introduction

On 18 September 2014 the people of Scotland will vote in a referendum to decide their future: whether to continue as part of the United Kingdom, or whether to re-establish themselves as an independent country. For all Scottish people (and many British people from the remainder of the UK) this is an emotive debate, with strong opinions on both sides. As Scotland prepares for the referendum this article considers the possible impact of a 'Yes' vote on intellectual property.
Background: Intellectual Property in Scotland

The structure of the United Kingdom can sometimes be confusing, even for its own residents. The UK is a sovereign state that comprises four different countries: England, Northern Ireland, Scotland and Wales. It is a long and complex history that has led to the current situation, but for Scotland it was the Act of Union in 1707 which signalled the end of its independence, and a political union with England.
Today Scotland has its own parliament, which provides limited self-government. In addition Scotland has representatives in the UK parliament, which retains control over reserved matters such as defence and international relations. Scotland also has its own legal system, which is different from that of Northern Ireland and England and Wales.
UK and European Community intellectual property rights apply in Scotland, just as they would in the rest of the UK. Importantly, there is no geographic sub-division of IP rights in the UK. Thus, it is not possible, for example, to obtain a Scottish patent, a Welsh trade mark, an English registered design or Northern Irish copyright.
Issues relating to intellectual property can be dealt with in various different Courts in the UK. Often IP issues are handled in the Courts of England and Wales, which include the High Court in London. However, it is also possible for IP issues to be handled by the Courts of Scotland (and indeed the Courts of Northern Ireland). If there is a suitable connection with Scotland then the Court of Session in Edinburgh is competent to decide on issues of infringement, validity and ownership. In these cases decisions of the Scottish Courts can be made binding on the remainder of the UK.
Memberships of International Organisations Following Independence

There is significant uncertainty about the status that Scotland would have with respect to international organisations of which the UK is currently a member. The view of the UK government is that, following independence, the remainder of the UK would continue as a successor state, and that a newly independent Scotland would be a new state. This new state would then need to apply for membership of various international organisations such as the EU. There are various alternative views, however. In one scenario it is arguable that the independence of Scotland would actually create two new states, both of which would need to apply to join international organisations (a similar situation arose in the dissolution of Czechoslovakia in 1993). In another scenario, perhaps justified by the fact that Scotland was independent prior to 1707, independence could create two successor states, with equal rights to continue as members of international organisations to which the UK is a member.
The status of Scotland with respect to various international organisations is, of course, important in the case of intellectual property. For the EU the Scottish Government proposes that it will agree the terms of Scotland's continued membership between the date of the referendum on 18 September 2014, and the proposed date of independence on 24 March 2016. However, the President of the European Commission, Jose Manuel Barroso, recently said that an independent Scotland would have to apply for EU membership and would need to secure the approval of all its current member states. The status that Scotland would have is equally unclear in respect of other international treaties such as the European Patent Convention, the Madrid Protocol, the Hague Agreement, and the new agreements involved in the establishment of the Unitary Patent and the Unitary Patent Court. It would appear that Scotland's status in these matters will only become clear following a 'Yes' vote, during the 18 months in which Scotland would negotiate the terms of its independence.
Effects on existing IP rights

There are two broad categories of IP in the UK. Firstly, there are Community rights that apply across the European Union, which include Community Trade Marks, and registered and unregistered Community Designs. Secondly, there are national rights that apply only in the UK, which include national trade marks, national patents, copyright, registered and unregistered designs and European patents that are validated in the UK.
In the case of Community IP rights, these would appear to apply in an independent Scotland, only if it were to be a member of the EU. As discussed above, this remains an unresolved issue.
In the case of UK national rights, it is difficult to find clear basis regarding how and whether these would apply in an independent Scotland. In order to seek clarity on this issue we contacted both the Yes Scotland Campaign and the UK-IPO.
The UK-IPO had this to say:
In the event of a vote for independence, existing intellectual property rights, including rights registered by Scottish nationals, would remain valid in the continuing UK.
Whether existing and future intellectual property rights registered in the UK would be permitted to extend to an independent Scotland would be a matter for the Scottish Government. There would be no need for the UK Government to approve such an arrangement.
Yes Scotland said this:
"In 'Scotland's Future', the Scottish Government explains that it will ensure 'continuity of the legal framework for protecting intellectual property rights' – so existing patents and trademarks will be protected"
Thus, it would appear that the Scottish Government intends that existing UK national rights would continue to be protected in an independent Scotland. The mechanism for this remains unclear, but it seems likely that some kind of re-registration process would be required in Scotland (at least for registered rights). One possible precedent for this comes from Montenegro's independence from Serbia in 2007. In that case existing IP rights for the territory of Serbia and Montenegro continued to be automatically valid in Montenegro. These rights were then independently renewable in Montenegro when renewal fees became due. For pending applications there was an opportunity to re-file in Montenegro within six months of the establishment of the Montenegrin Patent Office. The Yes Scotland Campaign was unable to say whether Scotland would establish its own Patent Office, although it seems very likely that this would be required.
The Scottish Government's White Paper on Independence

The Scottish Government has published a white paper on independence which is intended to set out the case for independence, and explain what an independent Scotland would look like. The white paper contains only a few brief comments about intellectual property. For example, the white paper states that the Scottish Government will ensure "continuity of the legal framework for protecting intellectual property rights" and that "as an EU member state, Scotland will meet European regulations and directives on IP rights protection, as well as international patent and trademark protections."
Additionally, the white paper states that:
"Independence will also allow Scotland to offer a simpler and cheaper, more business-friendly model than the current UK system, which is bureaucratic and expensive, especially for small firms. The UK is one of the few EU countries which does not offer a scheme which covers the basics of protection. Scotland could follow, for example, the German model which protects technical innovations".
To an IP practitioner, these statements are more than a little surprising. In particular, it is not clear how Scotland would offer a "simpler and cheaper, more business-friendly model" than the current UK system. Taking patents as an example, it would appear that the Scottish Government intends to allow patents to be granted using the European Patent Office, given its stated aim to ensure continuity of the legal framework. If this is the case then the cost of obtaining patent protection in Scotland would be at least the same as in the current system. In fact, the cost would probably be slightly higher since an additional step (and possibly additional official fees) would be required to obtain protection in Scotland as well as the remainder of the UK. The same logic would appear to apply in the case of national trade mark or registered design applications since two applications would likely be required to cover the same geographic area that would be covered by a single application at present.
In terms of enforcement, it is already possible to enforce UK national IP rights in the Scottish Courts. Therefore, Scotland already offers a forum for deciding issues relating to IP in the Courts. This forum can sometimes be cheaper than the Courts of England and Wales, but independence would not be required to realise this advantage. One possible disadvantage in the Scottish Court structure is the absence of a specialised court for small and medium sized enterprises. Such a Court exists in England and Wales: the Intellectual Property and Enterprise Court (IPEC). This could actually increase the cost of the IP system for small companies, by depriving them of access to a lower cost forum.
The suggestion regarding German-style utility models is also surprising. This author cannot comment on whether an IP system that includes utility models is a better system. Utility model systems do appear to be effective in some countries, although they also generate some problems, especially due to the existence of unexamined rights which are clearly lacking in novelty.
Reflections

There are a great many unanswered questions about what an independent Scotland would look like. The question of EU membership, in particular, is important, as well as other issues such as the currency that would be used. In this context it is perhaps unsurprising that there are outstanding questions about how IP rights would be disentangled following separation. It seems that we will need to wait and see how things develop, if a 'Yes' vote materialises.
From a personal perspective it feels strange to be participating in this debate. Personally, I do not have a conflict between my cultural and national identities (Scottish, British, and European in that order); although I recognise that many others feel differently. In fact, as I work and live in London I am ineligible to vote in this referendum (since eligibility is based on residency). I will therefore watch with interest from the side-lines as my national identity is decided by others.
At present the polls suggest that a 'Yes' vote is unlikely on 18 September (at present around 30% of the electorate are in favour). However, there is a significant number of 'don't knows', and therefore it does not seem implausible that Scotland could soon become an independent country once more. In the event of a 'Yes' vote, IP rights holders will need to take an active interest in this issue in order to ensure that they have an appropriate protection strategy for Scotland, ready for the anticipated independence day of 24 March 2016.