In a new article, Economist John Winters (OSU) looked at the link between collegiate STEM training (university degree) and innovation-intensity (per capita patenting). The findings are not surprising — locations with more STEM graduates have a higher per capita rate of patenting.  Of importance, Winters found this to be true regardless of whether the graduates were US-native or foreign trained.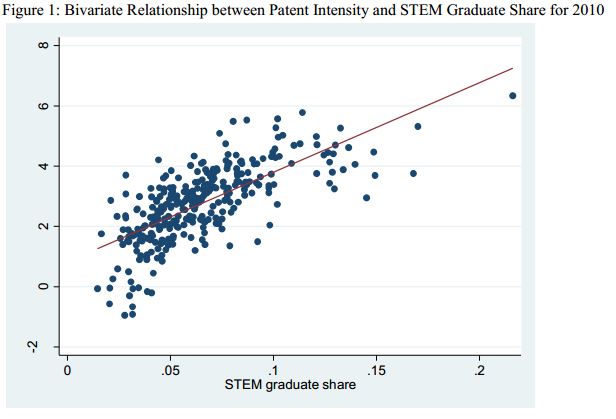 Figure 1 above charts the per-capita patenting (log) against the population-share of STEM-graduates.  Each point represents one of the 300+ U.S. metropolitan area in the study.  The outlier at the right is Silicon Valley which has both the highest per-capita patenting rate and the highest population-share of STEM graduates. You'll note that the per-capita patenting rate is on a log axis and that the SV patenting rate is much greater the chart suggests if thinking linearly.  Winters does not report on the identity of the low-end regions.
Although the paper does not delve into this, the phenomenon here is almost certainly not one of straight causation.  Silicon Valley and Boulder (No. 2 on the list) have both learned how to invest in research and investment likely leads to more local STEM graduates.  In that sense, the solution of 'getting more STEM graduates' is unlikely to be a success on its own.
A second problem with the paper is that it talks about 'innovation' but simply uses a patent-count measure as a proxy for innovation.  Although innovation is a legally necessary element of a patent, many important innovations are not patented. Further, although per-capita patenting provides a simple and easy to explain measure, it avoids the reality that some inventions are highly innovative and important while others are not.