[10/25/14 updated to correct minor data collection error] 
by Dennis Crouch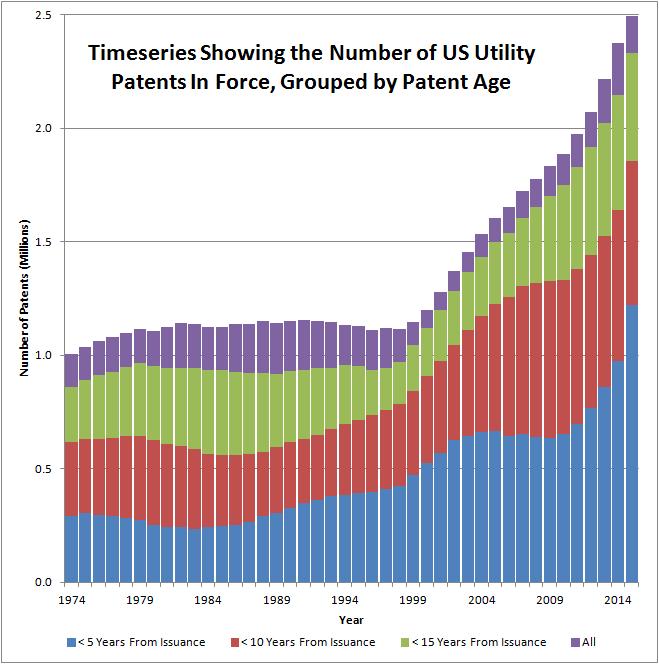 The chart above shows the number of patents in-force at any given point over the past forty years.  Each bar represents a snapshot taken on January 1* of the stated year and totals-up the number of issued but not-yet-expired patents.  The data for each year is divided-up into four groups categorized according to age (years-from-issuance).  You'll note the growth in young patents and a temporary decrease in older-patents.  The decrease is due to primarily to the establishment of maintenance fees for patents whose applications were filed after December 1980.
There have been a number of studies on the growth of patent enforcement litigation in recent years and some use the number of issued patents in order to calculate a litigation rate.  The problem with that approach is that that the number of patents potentially available for lawsuits in 2014 are not simply the number of patents issued that year, but rather include all patents in-force during the relevant time.
To make the chart, I first found the expected expiration date of each US utility patent going back to the 1950s, taking account of the 1995 changes in patent term calculation and the addition of patent-term-adjustment.  Then, I pulled-in data from the maintenance fee payment system and identified patents that expired early for failure to pay the maintenance fees due. Patent applications filed prior to December 1980 were not required to pay maintenance fees. I also identified patents that were associated with a terminal disclaimer and shortened the term where appropriate.  To do this, I actually guessed at which parent-patent was the likely relevant term — generally using the one with an earlier expiry date — because the actual link is buried in the prosecution history files.  I also did not have data on terminal disclaimers associated with pre-1976 patents. Using an automated process, I went through each of these steps with each patent in order to identify the years where it was in-force.  I should note, however, that I did not account regulatory-approval related patent term extensions or the impact of litigation/reexamination/review/reissue.  Although those processes are very important for particular patent rights, they are very unlikely to impact the general statistics presented here. Mike Brown (Brown & Michaels) has a good overview on his informative website.
* The final bar (2015) is a snapshot for October 23, 2014 (the day that the data was collected).