By Jason Rantanen
In November, I wrote about a decline in patent suits pending in district court.  Using Lex Machina, I recently put together an updated set of data that includes patent cases pending as of December 1 and January 1.  The figure below shows a continued drop in cases through November, followed by no real change in December.   The lack of movement for December is the result of a modest increase in new case filings and a substantial drop in terminations relative to the previous month.  (Keep in mind that the underlying data is highly dynamic: in December, for example, there were about 380 new case filings and about 400 terminations of existing cases.)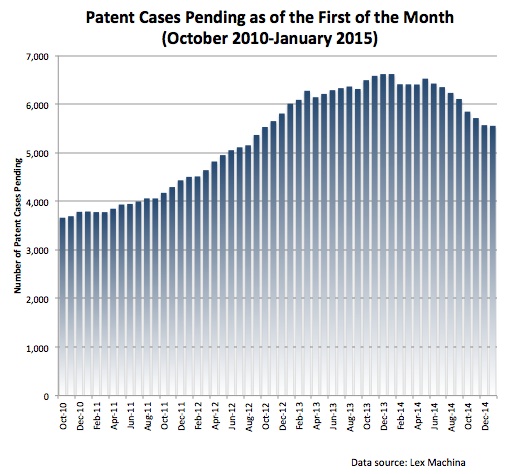 Some folks have asked about the effect of co-pending PTO proceedings.  Lex Machina doesn't presently offer a way to easily determine whether a proceeding is stayed pending an administrative proceeding at the PTO, so I can't directly count these stays in the graph.  But my intuition is that they aren't going to make an enormous difference.  Love & Ambwani report that between September 2012 and September 2014, courts granted litigation stays in 140 suits where there was a co-pending instituted inter partes review.  For comparison, the drop in pending I just don't see these stays making a significant impact on the above graph regardless of whether they are counted as open cases or terminated cases.
Thanks to my research assistant, Alex Lodge, for collecting the data for the above chart. 
Comment policy: At the suggestion of a few folks, I will try an active moderation policy on this post.  Posts containing name calling, character attacks, or an unnecessarily aggressive tone will be deleted, as will excessive commenting.