Guest Post by Zachary Kinnaird, Patent Attorney with International IP Law Group
We are currently in the midst of a noticeable downward trend in the number of new patent practitioners each year.  As recently at 2009, nearly 2,000 new patent attorney and agents earned registration numbers, however this has fallen more than 40% in just five years.  Based on registrations from this January, only 1,000 new patent practitioners are projected to register in 2015.
Registration timing data also shows:
A weak correlation between law school enrollees and new patent practitioners
A third of current patent attorneys were previously patent agents
The average time to convert from agent to attorney is slightly less than 3 years
Dramatic shifts in registration frequency around changes in the law and USPTO policy
In addition to the current downward trend, other interesting points include the roughly 55% decrease in registration numbers earned from 2003 to 2004.  Also notable is the doubling of new registration numbers earned from 1997 to 1998.  However, as noted in the methodology below, any data prior to 1998 may not be consistent with more recent data due to USPTO surveys and database updates.  Accordingly, fewer conclusions and points of interest can be identified for these earlier years.
January 2015 Below Average, Projecting Only ~1,000 New 2015 Practitioners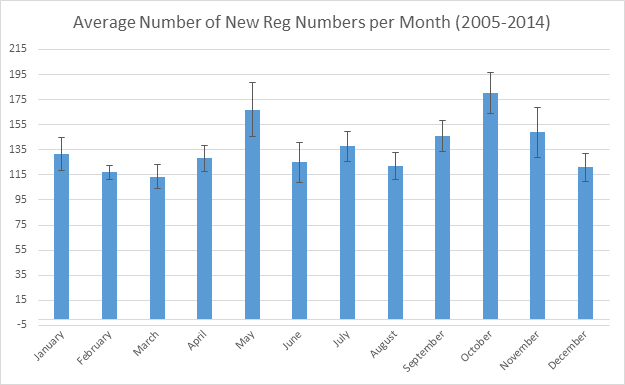 In the chart above, the averages for each month from 2005 – 2014 are shown with error bars showing the standard error for the number of new practitioners in the past 9 years.  Based on data pulled from the month of January 2015, a prediction can be made about this year's total new practitioners.  As no satisfactory correlation is currently found between the number of new practitioners and any other identified factor, these predictions are made only by comparison to averages over similar time periods.
A simple proportion is used as follows:

This is of course a very loose estimation.  Based on the standard error of January months used in the average, it would not be surprising to see up to 1,112 or as low as only 787 new US patent practitioners in 2015.  These lower projections fit the recent downward trend seen year to year since 2009.  If this downward trend continues, I am interested to see its effect on the employment market for patent attorneys, patent firms, and patent educators.
Weak Correlation between Law School Enrollees and New Patent Practitioners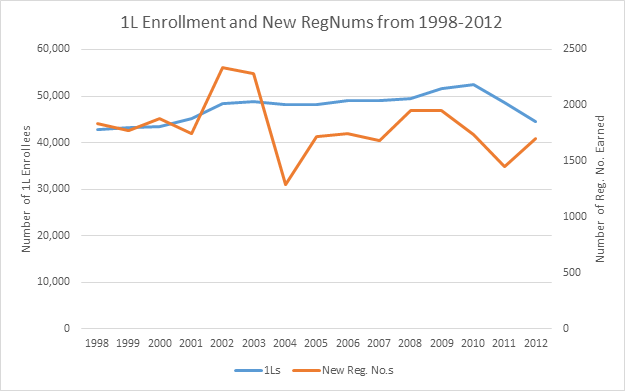 In this graph, the number of newly enrolled 1L law students as reported by The Wall Street Journal is compared to the number of new registration numbers earned each year.  Although at times there appears to be a weak correlation, overall there does not appear to be any correlation between the number of students attending law school and the number of new patent practitioners each year.  Indeed, the correlation coefficient in excel for these two trends was 0.066.
From the lack of a strong correlation presented by these values, one conclusion to draw is that the factors that convince a person to enter law school are different or are weighed differently than the factors that convince a person to pursue a career as a patent practitioner.
1/3 of Patent Attorneys were Agents First, Usually Converted in 3 Years or Less
With date of registration data, it is possible to find the number of patent attorneys who were previously agents.  Of the 43,064 practitioners listed, 13,232 were listed as a patent agent first.  This represents approximately 31% of the listed practitioners.
It is also possible to find the average time between these practitioners' registration as agents and their later registrations as attorneys.  On average, the conversion time was 1039 days, or roughly 2 years and 10 months.  Since the primary requirement to convert a registration status from agent to attorney is passing a state bar, it is reasonable to conclude that this number is close to 3 years because of the typical three year duration of law school in the United States.
However, more interesting is the fact that this average value is just below 3 years.  One interpretation is that this figure suggests the group of practitioners who change from patent agent to patent attorney, on average, decided to pursue work as a patent practitioner only after entering law school.  Otherwise, this average might be longer than the average duration of law school, not shorter.
 Month To Month Registration Frequency Shifts with Changes in Patent Law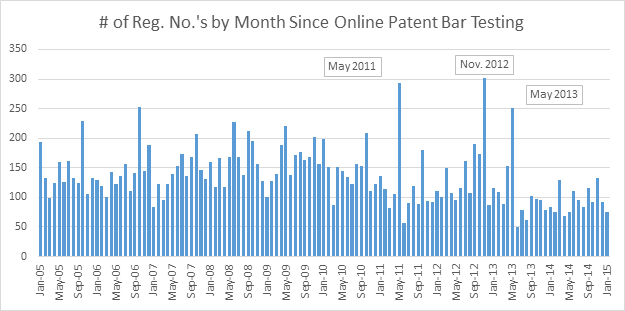 Since the start of online testing, registrations are more evenly spread through the year.  However there are still outlier months, and recently these outlier months correspond almost perfectly to follow the timing of the phases of AIA changes were set to be added the patent bar.  The slight delay from implementation month is likely explained by processing times at the USPTO of registration paperwork after passing the patent bar.  Unsurprisingly, the months immediately following the large increases show dramatic drops in the number of freshly registered practitioners.
Further, these outlier months make sense both theoretically and personally.  I myself was part of the May 2013 outlier month, and scheduled my exam towards the end of the month in March 2013 – the final month before the third phase of AIA changes were to be tested.  After passing the exam, my paperwork and processing time at the USPTO resulted in a first registration date of 5/20/2013.  It appears I was not alone in strategically scheduling my exam to avoid the uncertainty of being tested on new law.
Dramatic Shift in Registration Timing after USPTO Shift to Year Round Testing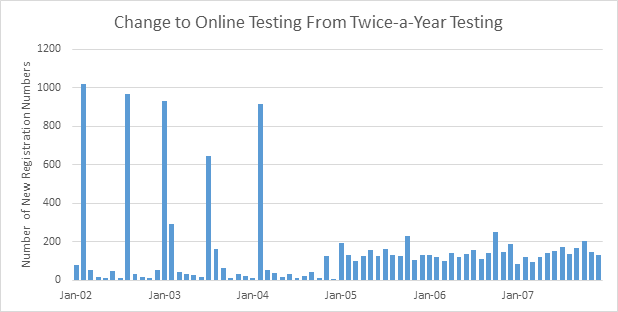 The above chart shows the number of new registration numbers earned every month from January 2002 to December 2007.  This range was chosen to highlight the effect of the USPTO switching from administering the patent bar twice a year to the year round method used today.
Methodology
The USPTO provides both a database for practitioner information as well as a zip file of this data in spreadsheet form that is updated daily.  However, the spreadsheet provided by the USPTO does not include the dates of registration as an attorney or agent.  Accordingly, the process of retrieving the registration date information from the online database was automated to yield the data that is analyzed in this post.  As many practitioners have been registered as both patent agents and as patent attorneys, only the date an individual first received a registration number was used for this analysis.
Unfortunately, it is unclear how accurately the USPTO database reflects active U.S. Patent practitioners.  Dennis Crouch wrote about this issue in 2012 and also covered one of the Patent Office's attempts to refresh its database to reflect a more accurate count of current practitioners.  In fact, as recently as October 2014, the Office of Enrollment and Discipline (OED) has conducted another survey for registration numbers 35,000-39,999 to update the information in its database.  For the curious, these most recently identified registration numbers correspond to practitioners who first registered between August 1991 and February 1996.  Due to these surveys, and the lack of more complete data, the following graphs and charts only represent the USPTO attorney and agent database as of January 31, 2015.
Future Analysis
In the future, I will take a look at the ratio of agents to attorneys on from year to year to see if the relative percentage of patent agents is increasing, decreasing, or does not follow a trend.  I also plan to flesh out the historical parts of this data by calculating yearly values of registration numbers from earlier years to compensate for the data removed by the USPTO through OED surveys.