The AIA makes important changes to the law of prior-art that will impact which inventions are patentable, although it remains unclear whether the new law makes it more difficult to obtain patent protection because it increases the scope of prior art in some areas but decreases the scope in other areas.
What is an AIA-Application.  An AIA application is a patent application that – at some point – included at least one claim whose effective filing date is on or after March 16, 2013.   For most applications, the answer to this is easy: if the US application is filed before the 2013 deadline then it is not an AIA-application; and if the US application is filed after the 2013 deadline and has no priority claims then it is an AIA-application.  The difficult questions come-up with post-AIA applications that claim priority to pre-AIA filings.  The question that the applicant must answer for those is whether the newly filed application includes any claims (including cancelled claims) that were not fully supported by the priority filing.
In their filing papers, patent applicants are asked to self-identify whether the application should be considered pre- or post-AIA with the following check-box statement:

To get a sense of how the transition is going, I pulled-up the files of about 6,000 recently published patent applications to see whether they are listed as pre- or post- AIA applications. The chart below shows the results. Prior to October 2014, very few of the published applications were considered post-AIA.  Unless early publication was requested, those applications were either filed prior to the March 2013 date or claimed priority prior to that date (which thus led to early publication).  Applications published since October 2014 are generally ones filed after March 2013.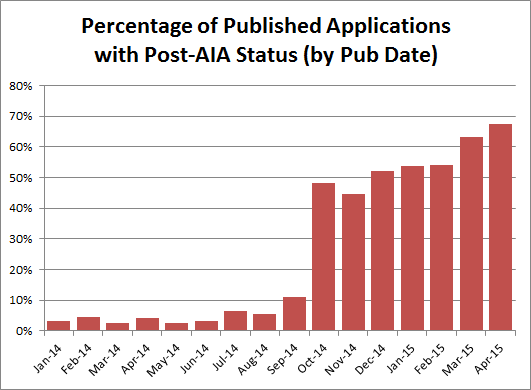 We now have a growing number of post-AIA applications filed more than 24-months ago. Many of these have now received a first office action and at least some have issued as patents. (See, for example, Patent Nos. 9,032,902; 9,033,062; 9,035,301; 9,035,446; and 9,037,353).  Coming soon – battles over the meaning of the revised 35 U.S.C. 102.