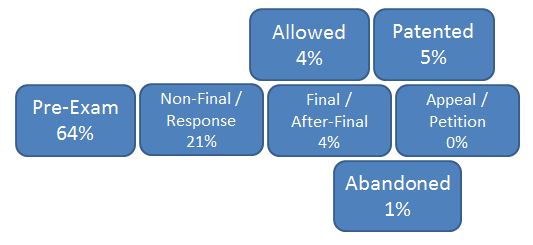 Some applicants have asked about the current status of their AIA applications.  The chart above shows the current status of a sample of about 8,000 published patent applications claiming post-AIA status.*  Because of the backlog of PTAB appeals, it will likely be 2017 before we start seeing substantive decisions on the merits of AIA appeals.
About 7% of recently issued patents claim post-AIA status.
* A patent application falls under the America Invents Act (AIA), if it ever included a claim whose earliest effective filing date (counting priority claims) is on or after March 16 2013.  This automatically includes all applications filed after the March 2013 deadline that do not claim priority to any earlier applications. Applications filed before the March 2013 date are all pre-AIA because the new-matter restriction would require that all claims be associated with that pre-AIA filing date.  In the middle are applications filed after the March 2013 date but that claim priority to a pre-AIA application.  For those bridge applications, the patent applicants have been initially asked to self-determine whether their applications are considered pre- or post-AIA.