By Dennis Crouch

A substantial percentage of the USPTO budget arrives in the form of maintenance fee payments. This is "easy money" for the USPTO because the Office has already done the work of examination. A patent's term runs 20-years from the effective filing date, not counting provisional or foreign national priority filing and with the addition of any patent term adjustment. They typical result is a term of 17 years post-issuance, give or take. During that time, a patent applicant must continue to pay maintenance fees at regular intervals: due 3 ½, 7 ½, and 11 ½ years from issuance (with an additional six-month grace-period added on).
The chart below shows the percentage of patents whose maintenance fees have been paid at each of the three stages. You'll see that the vast majority of applicants pay the first maintenance fee (currently set at $1,600 for large entities); More patents drop out as the second maintenance fee is due ($3,600), and fewer than half of the cases see the third maintenance fee paid ($7,400). I expect that a number of factors drive the apparent trends in maintenance fee payments, including the ever-rising cost, the perceived value of future patent right, patent term remaining, general economic outlook, and current access to funds, for example.
The current fees were put into place in March 2013. It is not surprising that the increased price resulted in the diminished number demanded as shown in the chart. Importantly, however, the drop in maintenance fee payments was slight in comparison to the size of fee increase (3rd Fee increased by 50%).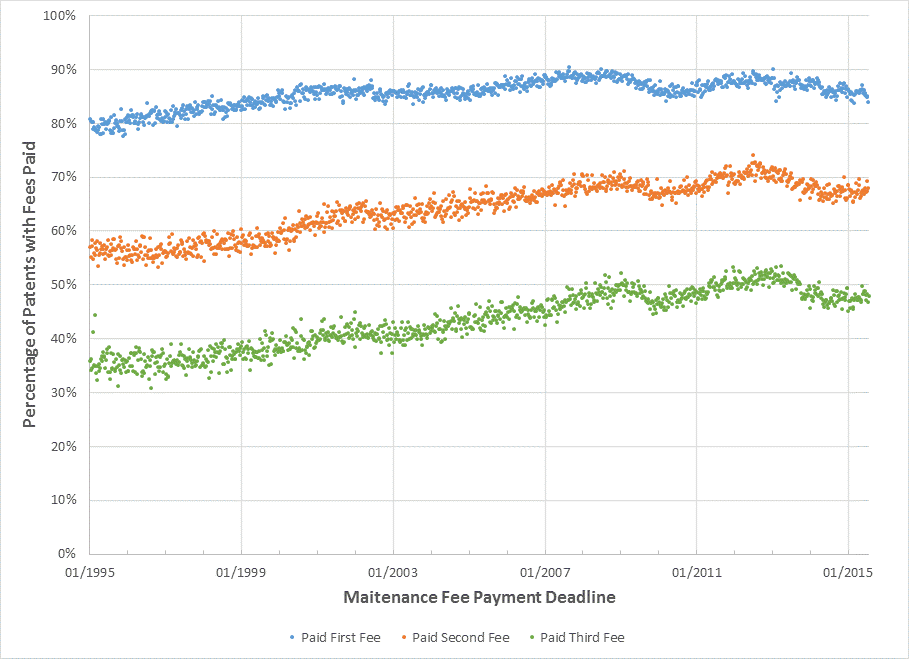 In addition to the revenue generated, a number of folks (often non-patent-holders) see maintenance fees as a costly-screen configured to weed-out relatively worthless patents so as to ease any freedom-to-operate search.