By Dennis Crouch

It is hard for me to believe that the America Invents Act of 2011 is now four-years old.  Some changes (Joinder, Fees, e.g.) had fairly immediate impact.  Although somewhat slower coming on-line, the new Inter Partes Review and Covered-Business-Method Review systems are now major fixtures in patent enforcement-defense strategies.

The final major element of the AIA is actual implementation of transformation of the prior art rules in 35 U.S.C. 102.  The new first-to-file law applies to patent applications having at least one claim whose earliest effective priority filing date is on or after March 16, 2013.  In the past 30 months since then, hundreds of thousands of AIA patent applications have been filed – and those are beginning to trickle out as issued patents.  I pulled-up the PAIR files for 800+ recently issued patents (from the first two weeks of Sept 2015) and looked at the reported AIA-Status of those patents. (Table 1 below)

| | | |
| --- | --- | --- |
|  Table 1: | All Patents | Only Patents Filed Post-AIA |
| AIA Patents | 147 | 147 |
| Non-AIA Patents | 721 | 262 |
| Total | 868 | 409 |
| Percent AIA | 17% | 36% |
| 95% CI (+/-) | 3% | 5% |
Of the 868 patents, 147 are "AIA" patents – meaning that none of the claims of the patent (or application) could have effectively an effective filing date before March 16, 2013 (the "AIA-date"). This represents 17% of the total number of patents in my sample and 36% of the number of patents in my sample that were filed after the AIA-date. I also report the 95% confidence interval that is based upon the simple binomial calculation (p(1-p)/n). The chart below considers the same type of data, but uses a time-series stretching back to the beginning of 2015 showing a linear fit to the data.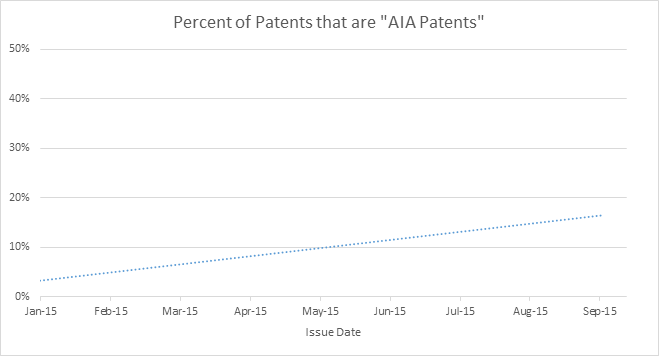 Where the AIA Status is Defined: My understanding is that the AIA data field in PAIR has been populated as "no" for any application filed prior to the AIA date; populated as "yes" for any application filed after the AIA-date that has no pre-AIA claims for priority or benefit; and finally, for transitional applications filed post-AIA but with a pre-AIA priority claim, populated according to the AIA-question in the Application Data Sheet. [The AIA-status of an application is obviously information material to patentability and so we will likely see some inequitable conduct allegations down the line.]

Not Yet Litigated: Although there are now several thousand AIA patents issued, there have been no court cases yet involving an AIA patent or patent application.  Likewise, we have no Post Grant Review (PGR) final decisions and we have no PTAB decisions from ex parte cases involving AIA applications. Those will come, but meanwhile many patent attorneys will continue to operate with some ambiguity regarding how Section 102 will be interpreted going forward. Important big questions: Do non-enabling commercial uses; confidential sales; and confidential offers-to-sell still qualify as invalidating prior art? What activities will count as "otherwise available to the public?" How narrowly will the narrowed grace period of 102(b)(1) be interpreted? (e.g., does the grace period only apply to pre-filing disclosures of the claimed invention itself as suggested by the text or instead can any pre-filing disclosure by or from the inventor qualify?) What is the impact of elimination of Section 102(f)?