by Dennis Crouch
I find the chart below interesting. It reflects the reported number of non-provisional patent applications filed each month at the USPTO. (Here, an RCE does not count as a new filing, but a continuation, CIP, or divisional does).  The data comes directly from the USPTO's patent dashboard.
I note the high-point in the chart represents March 2013 – a time when applicants were looking to get their applications on-file prior to the AIA-deadline.  The second high point is in March 2014 when the pre-AIA influx of provisionals were set to expire.
Quarterly Filings: What is most notable to me is the quarterly nature of the data.  Year-after-year we see a high number application filings in the end-of-quarter months of March, June, September, and December and lower filing numbers in the other months.  This pattern has held stead for every month of every quarter going back to the beginning of my data-set in 2009.  Is this really being driven by internal corporate pushes to meet quarterly goals? Is it the corporate clients driving this or are law firms also pushing for this outcome?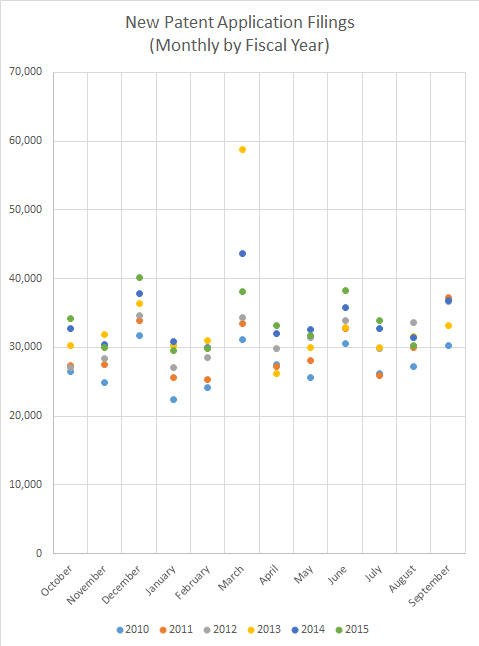 UPDATE: Professor Jeremy Bock (Memphis) sent along his chart showing the phenomenon from a slightly different perspective.