By Dennis Crouch
At the recent Mizzou-USPTO symposium there was some discussion about whether the European Patent Office (EPO) has positioned itself as a more favorable patent venue than the US.  Most practitioners will agree that the US is now more restrictive in terms of subject matter eligibility and the new pan-European patent enforcement court makes those patents obtained in Europe more all the more valuable.  Today, the EPO released a set of data that makes these prognostications appear to ring true.
The first chart below shows that the number of EPO patent applications coming from the US grew substantially over the past year (up 16.4%).  Top US-based EPO filers include United Technologies (UTX), Qualcomm, GE, Intel, Microsoft, J&J, and Honeywell – with these top seven collectively representing about 20% of the US-based EPO applications filed in 2015.  Some major U.S. filers (such as AT&T and GM) did not make the list.  UTX was not patent powerhouse in recent decades, but has ramped-up filings over the past few years. The growth in applications from the US almost accounts for the entire increase in filings over 2014.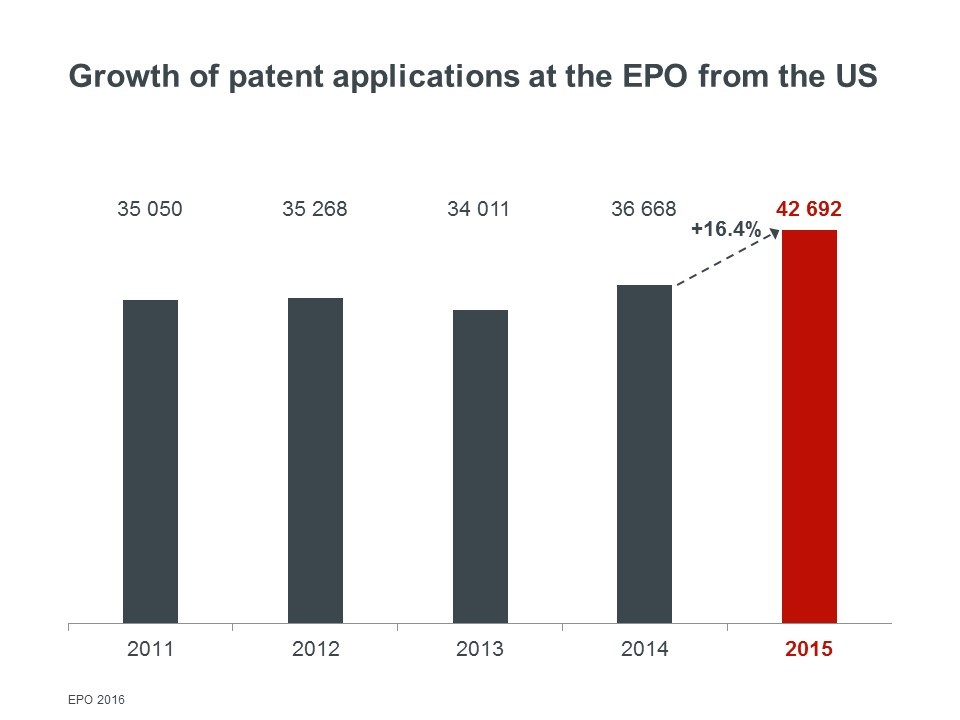 Although these are year-to-year changes, it is important to consider that the impacts will linger in the system for the next 20 years.