TC Heartland v. Kraft Foods (Supreme Court 2016) [Petition for Writ of Certioari]
Patent litigation continues to be concentrated in a small number of venues.  This case is potentially a big deal because it could eliminate this concentration — especially patent cases in the E.D.Texas.  Both the PTO and Congress appear in favor of venue reforms, but statutory reforms will likely wait until the Supreme Court decides TC Heartland.
Background: The scope of patent venue is codified in 28 U.S.C. § 1400(b) and limits venue to judicial districts "where the defendant resides, or where the defendant has committed acts of infringement and has a regular and established place of business."  At first glance, this venue statute would seem to significantly limit venue — For instance, few patent infringement defendants actually reside or have a place of business in the E.D. Texas.  That narrowness was confirmed in the Supreme Court's decision in Fourco Glass Co. v. Transmirra Products Corp., 353 U.S. 222 (1957).  The issue in Fourco Glass involved the parallel statute of 28 U.S.C. § 1391 (titled "Venue generally") that broadly defined a corporation's residence to include "any judicial district in which it is … licensed to do business or is doing business." Despite the seeming broadening statutory definition, the Supreme Court held that the more general Section 1391(c) could not be used to expand venue beyond what was contemplated in Section 1400(b).  Rather, the court held that "where the defendant resides" in § 1400(b) is limited to "the state of incorporation only." Fourco Glass.
We hold that 28 U.S.C. § 1400(b) is the sole and exclusive provision controlling venue in patent infringement actions, and that it is not to be supplemented by the provisions of 28 U.S.C. § 1391(c).
Id.
In 1988 Congress amended 1391(c) to expand the definition of residency "for all venue purposes" to include "any judicial district in which such defendant is subject to the court's personal jurisdiction." Based upon that change, the Federal Circuit determined in 1990 that Fourco Glass had been implicitly overruled and that the new provision of 1391(c) now does redefine and greatly expand Section 1400(b) even though the legislative history of the 1988 amendment did not discuss patent venue. VE Holding Corp. v. Johnson Gas Appliance Co., 917 F.2d 1574 (Fed. Cir. 1990).
The chart below from the cert petition shows the 1988 statutory change that the Federal Circuit found sufficient to indicate an overruling of Fourco Glass.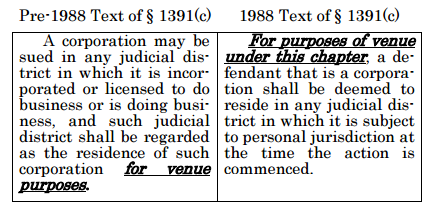 It is this 1990 combination of 1400(b)/1391(c) that is now the status quo – venue is proper in any any federal court that has personal jurisdiction over the accused infringer.*
TC Heartland challenges the VE Holding interpretation offering broad venue.  It writes:
The question in this case is thus precisely the same as the issue decided in Fourco: Whether 28 U.S.C. § 1400(b) is the sole and exclusive provision governing venue in patent infringement actions and is not to be supplemented by 28 U.S.C. § 1391(c).
The Supreme Court previously decided patent venue in Stonite Products Co. v. Melvin Lloyd Co., 315 U.S. 561 (1942) and also held that the specific patent venue provisions should prevail and remain unmodified by the general venue provisions.
I'll be happy if TC Heartland wins because it will make it much easier for me to watch patent cases here in Missouri.
The new petition is filed by James Dabney and John Duffy who were the forces behind KSR v. Teleflex.
= = = = = =
* The one major caveat is that Congress again amended 1391(c) in 2011 and the associated legislative history suggests a Congressional recognition that "VE Holding is the prevailing law."  Update and Correction – On suggestion from a reader, I followed chased down the above quote – it does not actually come from the Congressional Record but instead is Judge Moore's conclusion found in the TC Heartland case.  The opinion states:
In fact, before and after these [recent] amendments, in the context of considering amending the patent venue statute, Congressional reports have repeatedly recognized that VE Holding is the prevailing law.
For its conclusion, the court cites several Congressional reports that I have not read: "See H.R. Rep. No. 110–314, at 39–40 (2007); S. Rep. No. 110–259, at 25 (2008); H.R. Rep. No. 114–235, at 34 (2015) (stating that "Congress must correct" our holding in VE Holding by amending § 1400); cf. Venue Equity and Non-Uniformity Elimination Act of 2016, S. 2733, 114th Cong. § 2(a) (2016)."  An important note with this is that the court did not identify any record contemporaneously with the 2011 report that suggests a conscious choice to keep VE Holding as the prevailing law.