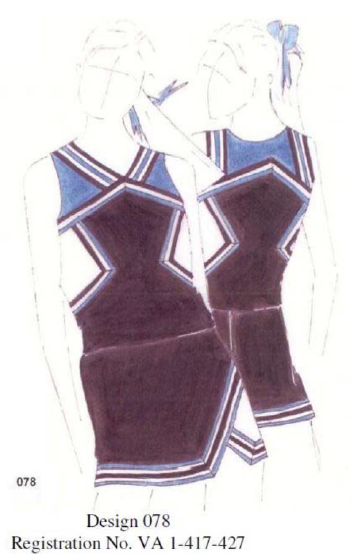 Today the Supreme Court heard oral arguments in the pending copyright case of Star Athletica v. Varsity Brands.  Although not a patent case, the issue involves the boundary line (if any) between patent and copyright and the "useful article" exception. Question Presented: What is the appropriate test to determine when a feature of a useful article is protectable under section 101 of the Copyright Act.  The statutory test under Section 101 states that "the design of a useful article . . . shall be considered a pictorial, graphic, or sculptural work only if, and only to the extent that, such design incorporates pictorial, graphic, or sculptural features that can be identified separately from, and are capable of existing independently of, the utilitarian aspects of the article."
Clothing has traditionally been seen as useful and therefore not itself subject to copyright protection.  Here, the subject matter is the design of a cheerleader outfit (see image at right).
Petitioner (Mr. Bursch) began with a provocative statement that probably says more about copyright law than the case itself: "Mr. Bursch: Congress did not intend to grant a century-long copyright monopoly in cheerleader uniform design."
I expect that the court's consideration of this case will also have some impact on its views regarding the coverage of design patents in Apple v. Samsung.