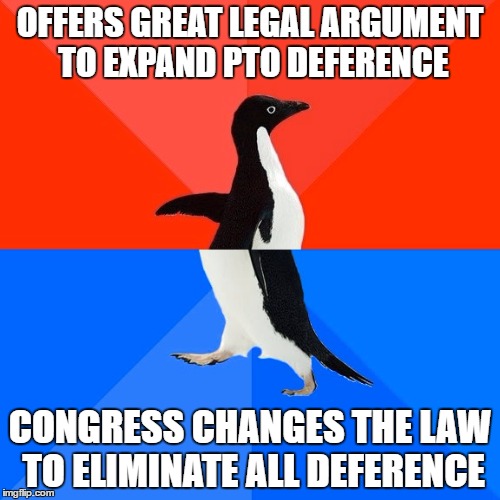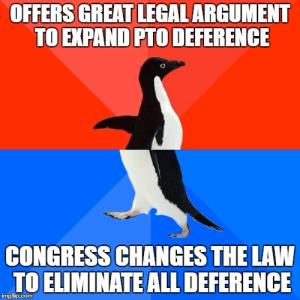 By Dennis Crouch
In the landmark case of Chevron U.S.A., Inc. v. Natural Resources Defense Council, Inc. the US Supreme Court laid-out the process for determining whether to grant deference to a federal agency's interpretation of 'its' statute.[1] 'Chevron deference' as it is often termed provides agencies with power to interpret the statutory law – and that interpretation will be given deference if ever appealed to a court of law.  In some areas, the agencies are in full control. However, patent law is different. The patent courts (i.e., the Federal Circuit) has repeatedly held that the USPTO was never granted substantive rulemaking authority by Congress and, as a consequence, the agency's interpretations of the substantive patent law are not subject to deference. Instead, USPTO interpretations of substantive patent law are reviewed de novo on appeal.  The AIA substantially increased the USPTO's procedural authority with creation of the AIA Trials division and fee setting authority.  Those interpretations of PTO procedural statutes are given deference by the Federal Circuit.
Some academics have argued that deference should apply to substantive patent law rulemaking, such as interpretation of the "on sale" doctrine.[2]  However, the law may soon head the opposite direction.
Now pending before the Senate is the "Separation of Powers Restoration Act of 2016" sponsored by Senators Hatch, Grassley, and Lee.[3] The House version passed in July 2016 on party lines with 100+ Republican co-sponsors. In January, party lines will have shifted to allow a renewed version of the Bill to be passed in both the House and the Senate and signed into law by President Trump.
The proposal is about as simple as can be. The one-page bill simply adds the words "de novo" into the Administrative Procedure Act Section 706 – the section that provides for the scope of review of an agency action.  Under the new law, any APA appeal will require de novo review of "all relevant questions of law, including the interpretation of constitutional and statutory provisions and rules."
This change would breathe new life into Challenges of the AIA Trial system, USITC decisions, as well as a large host of USPTO procedural examination rules and fees.
= = = = =
[1] 467 U.S. 837 (1984).
[2] See, Stuart Minor Benjamin & Arti K. Rai, Administrative Power in the Era of Patent Stare Decisis, 65 Duke L.J. 1563 (2016) building on their prior work at Stuart Minor Benjamin & Arti K. Rai, Who's Afraid of the APA? What the Patent System Can Learn from Administrative Law, 95 Geo. L.J. 269 (2007); Christopher J. Walker, Chevron Deference and Patent Exceptionalism, 65 Duke L.J. 2016; and Melissa F. Wasserman, The Changing Guard of Patent Law: Chevron Deference for the PTO, 54 William & Mary L.Rev. 1959 (2013).
[3] H.R.4768.