by Dennis Crouch
In TC Heartland LLC v. Kraft Foods Group Brands LLC, the Supreme Court has significantly shifted the balance away from the geographically fringe Eastern District of Texas – holding that the residence requirement of 28 U.S.C. § 1400(b) refers only to a defendant's State of Incorporation for patent infringement venue purposes.
Read the Decision: 16-341_8n59.
The short (10-page) unanimous opinion authored by Justice Thomas reaffirms the court's prior decision in Fourco Glass Co. v. Transmirra Products Corp., 353 U. S. 222, 226 (1957) — holding again that "for purposes of §1400(b) a domestic corporation 'resides' only in its State of incorporation" and rejecting the notion that a much broader definition of venue (found in §1391) applies.
Although the Supreme Court law appears continuous.  The Federal Circuit created a major blip in its 1990 decision of VE Holding Corp. v. Johnson Gas Appliance Co., 917 F. 2d 1574 (1990).  In that case, the appellate court held that patent infringement venue is proper in any court having personal jurisdiction over the defendant.  That expansive change allowed for the rise of patent-focused venues such as the Eastern District of Texas where the majority of infringement lawsuits have been filed over the two decades (heat map below).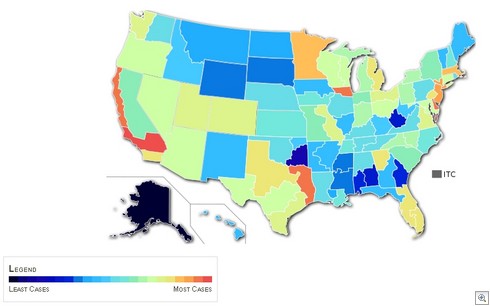 What next:  Section 1400(b) limits patent cases to the judicial district (1) "where the defendant resides," or (2) "where the defendant has committed acts of infringement and has a regular and established place of business."  This means a likely large boost of lawsuits in Delaware.  National retailers will still be amenable to suit essentially everywhere, but many would-be defendants will be able to avoid E.D.Texas at least. There will also be new litigation on the implications for foreign companies with no established place of business in the US.  The decision here expressly refuses to address that question other than noting that it did previously decide that foreign corps can be an exception to 1400(b). Although possible, it is unlikely the court will adapt the "established place of business" to include the internet, although that portion of 1400(b) has not been explored since the e-tailing explosion.  With less concentrated venue, I we can also expect a rise in multi-district litigation.  For more, consider Prof Janicke's article on the Imminent Outpouring from the Eastern District of Texas.