Guest Post by Saurabh Vishnubhakat, Associate Professor of Law and Associate Professor of Engineering, Texas A&M University.  This post is based on a new paper forthcoming in the Seton Hall Law Review.  Read the draft at https://ssrn.com/abstract=2992807.
We tend to think of the different patentability requirements as separate hurdles to be cleared.  To be patentable, an invention must reflect eligible subject matter (§ 101).  It must be new (§ 102), nonobvious (§ 103), adequately disclosed (§ 112), and so on.  A quick review of patent doctrine makes it clear, however, that patent law's separate statutory requirements reflect similar, overlapping concerns.
Subject-matter eligibility, in fact, overlaps with all the other major requirements.  For example, one way to understand why natural products and natural laws are ineligible for patenting is that they are not truly innovative.  The concern about innovation is one that the novelty and nonobviousness doctrines also share.  Similarly, one way to understand why abstract ideas are ineligible is that the patentee might preempt the full scope of an idea without disclosing all possible instantiations of the idea.  The concern about preemption and proportional patent scope is one that the enablement and written description doctrines also share.
Given this overlap, subject-matter eligibility could theoretically be used in place of various other patentability requirements.
How These Overlaps Show Up in Examination
As it turns out, this is not just a theoretical possibility.  Evidence for these overlaps is pronounced in actual patent examination.  Because compact prosecution pushes examiners to identify all grounds for rejection together (rather than raise them piecemeal across multiple Office actions), it is possible to learn how frequently a given invention presents multiple patentability problems.
A new, fairly large dataset (800 randomly selected patents) of USPTO records reveals that subject-matter ineligibility does overlap substantially with other statutory requirements in examiner Office actions.  More than six times out of seven, an invention that was rejected for ineligibility under Section 101 was also rejected on at least one other ground.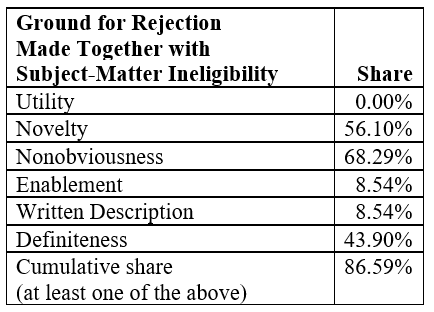 How These Overlaps Show Up in Litigation
These overlaps have also become very interesting to courts because they seem to offer a shortcut for deciding patent validity more quickly and more cheaply: by using subject-matter ineligibility at the pleading stage.  Litigation data on motion practice in patent cases bears this out.  Early in litigation, when decision costs have not yet accrued, motions to dismiss and motions for judgment on the pleadings are based primarily on ineligibility under Section 101.  By contrast, among motions for summary judgment following discovery, subject-matter ineligibility plays a much smaller role as other, more fact-intensive patentability doctrines can now be argued.


Conversely, the points at which subject-matter ineligibility is argued are spread fairly evenly across motions to dismiss (34%), motions for judgment on the pleadings (27%), and summary judgment (39%).  The five other major patentability requirements—utility, novelty, nonobviousness, enablement, and written description—come up almost exclusively at summary judgment.


Why Courts Like Section 101 As a Shortcut—and Why It's a Problem
Using subject-matter eligibility early can be attractive to a court.  Deciding a patent's validity at all can be costly.  Claim construction, discovery, jury trials—the list of decision costs goes on.  Deciding validity incorrectly can be costly, too.  Failing to strike down an invalid patent tends to distort the market today and enable abuses such as nuisance litigation.  Meanwhile, wrongly striking down a valid patent tends to undermine incentives for future investment in research and commercialization.
A court that invests more resources in a decision is less likely to make a mistake, but this only helps to a point.  If the next dollar spent on reaching a good decision saves less than a dollar of error cost, the overall expenditure is actually a waste.  The lesson, then, is not to minimize decision cost alone or minimize error cost alone but to minimize the sum of decision cost and error cost.  (This insight is at least as old as Judge Frank Easterbrook's 1984 paper on decision and error in antitrust cases.)
Problems arise in the patent context when judges who want to conserve resources today cut too many corners and underestimate their likelihood of errors.  The costs from those errors, after all, lie in the future and are easy to miss.  Judges in patent cases have begun relying on a style of decision-making that is quite similar to antitrust law's distinction between per se rules and the rule of reason.
An antitrust rule that says a certain economic practice is per se invalid is cheap to administer but, like many bright-line rules, can lead to errors.  The rule of reason is more likely to result in a correct decision about the economic conduct in question, but will require more judicial resources.  Per se rules of antitrust should only be used, therefore, for types of economic conduct that are well-understood and very reliably harmful.
Subject-matter eligibility is becoming a sort of per se shortcut for patent invalidity, in contrast to more costly inquiries like nonobviousness or enablement analogous to the rule of reason.  The historical lesson of antitrust, though, has been that per se rules should be used very sparingly because a wide range of economic practices may prove to have procompetitive effects.  This does not mean the conduct is definitively legal under the antitrust laws—or that a given patent is definitively valid.  It simply means that more information and more careful judicial consideration are needed before an accurate decision can be reached.
Until now, the use of subject-matter eligibility at the pleading stage may be conserving decision costs, but without sufficient regard for error costs in decisions on patent validity.  In my paper, I discuss problems with the current approach and propose three ways to guard against this irresponsible borrowing from antitrust.