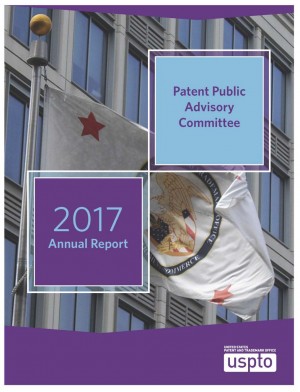 The Patent Public Advisory Committee (PPAC) has released its 2017 annual report with a set of important recommendations for the Director:
USPTO should remain independent of Department of Commerce, including control of HR and IT;
USPTO should be given further fee-setting authority beyond the AIA's 2018 sunset date;
USPTO should continue to modernize its legacy IT systems
Congressional legislation should support the Telework and Hoteling program at the PTO;
PTAB should "remain vigilant in ensuring fair and transparent processes and proceedings in order to render wellgrounded decisions;"
Current mid-level rank of USPTO IP Attachés should be increased by one level, which would give USPTO IP Attachés greater access to senior host government officials and Ambassadors.
Regarding Section 101: the USPTO should (a) continue to update the stakeholder community and examiner corps on recent jurisprudence and where appropriate, continue to issue memoranda that describes the relevant court decision; (b) finalize the MPEP updates in Section 2106 directed to "Patent Eligible Subject Matter," so the stakeholder community has one central repository on the USPTO's website to receive the latest updates; and (c) should continue stakeholder outreach programs and workshops on Section 101 developments due to the critical nature of this area.
In addition to these recommendations, the PPAC also offered several Kudos to the PTO for:
Reducing first-action pendency average from 28 months (2011) to 16 months (2017);
Reducing overall total application pendency average from 34 months (2011) to 24 months (2017);
Improvement in its quality initiatives, including the Quality Metrics Program, Clarity and Correctness Data Capture Program and the Clarity of the Record Pilot as well as in its on-going efforts to enhance patent quality.