My patent law class at Mizzou focuses on practical aspects of drafting claims, forming rejections, and arguing motions.  However, the students also take a short final exam that counts for about 30% of their grade.  The following is this year's exam – DC. 
Introduction: On her drive from Florida to Mizzou in June 2017, Dean Lidsky struggled to find food to match her true Texan tastes. That adversity sparked an idea: A mobile device APP that suggests nearby restaurants based upon a person's home-state.  Lidsky has not yet built a working model, but has designed the system to use look-up-tables that match various home-states with food preferences and then links those food preferences to various restaurants.
The two tables below show examples of how the home state can be used to correlate with food type affinities and then matched to restaurants.  A phone's location information also be used to help automatically generate the list of nearby restaurants with high affinity.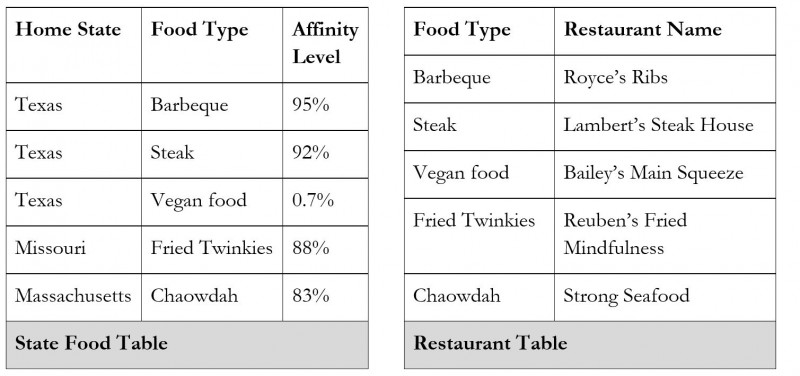 Lidsky filed a non-provisional patent application on December 5, 2017 with the following claim 1 (drafted by her Florida-based patent attorney).
I claim:  1. A preference matching system comprising:

a mobile device having a screen, a processor, and a memory; and

software code stored in said memory, wherein said software code is configured provide a user of the mobile device with ranked list of restaurants,

wherein said ranked list is based at least upon an affinity metric and a proximity metric, and wherein said affinity metric is based upon a predetermined correlation between a food-type and an aspect of said user.
Question 1. (150 words) Is claim 1 directed toward eligible subject matter?
Question 2. (60 words) Provide a concise argument that claim 1 fails for lack of definiteness.
Question 3. (100 words) On November 30, 2017, Gely filed a U.S. patent application that disclosed all-but-one of the elements of Lidsky's invention. Namely, Gely did not incorporate the phone's location information. Rather, Gely would require users to enter location information.  Note, it appears that Gely independently created his invention, but he was actually inspired by Lidsky's comment when she arrived about her difficulty in finding food that matched her Texan tastes.  Although filed in 2017, Gely's application was kept secret by the USPTO until it was published (under Section 122) in May 2019.
Would Gely's application count as prior art against Lidsky's patent application if used for an obviousness rejection?
Question 4. (80 words) Assume here that Gely's patent application is prior art against Lidsky's patent application, make the argument that Gely anticipates Liskdy's claim.
Question 5. (12 words) During patent prosecution, Lidsky added a limitation to claim 1 explaining that the "proximity metric" uses a phone's GPS and Cell-Site location.  The examiner accepted this amendment even though neither GPS nor Cell-Site location information were particularly disclosed in the originally filed application.  The examiner reasoned (correctly) that these additions were very well known in the art and so a person of ordinary skill in the art would know how to add them without any further disclosure.
Would this amendment invalidate the issued claim under either the Written Description or Enablement requirements (or both)?
Question 6. (40 words) Assuming Lidsky's patent issues and is valid.  Would a competing app producer be liable for freely distributing their version of the APP via an APP Store? (Assume that the competitor's app while in-use on a device would practice each limitation of the claimed invention.)