Ex parte Naeymi-Rad (PTAB 2018)
Intelligent Medical Objects, Inc. (IMO) has an interesting business of capturing, standardizing, and simplifying medical documentation used in 3,500 hospitals and by 450,000 doctors.  This process is critical for both treatment and payment — all in an environment where mistakes can lead to death and bankruptcy.  In the U.S., companies have spent billions of dollars on designing electronic medical record systems — yet major problems remain.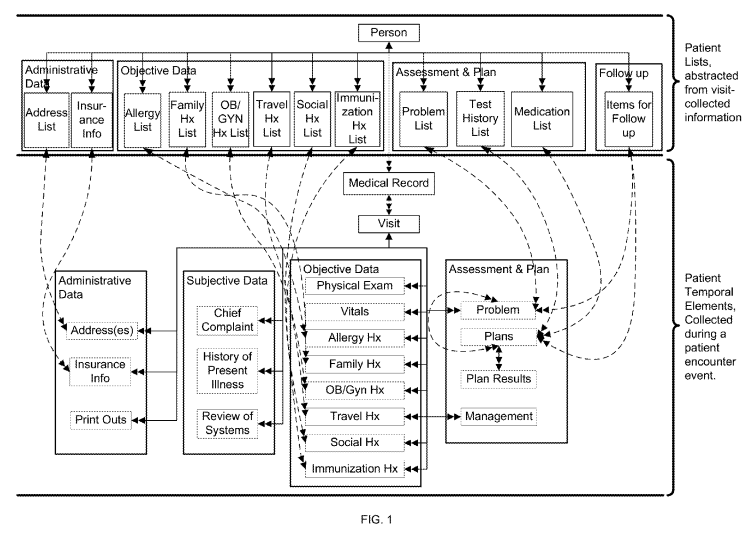 IMO's CEO Frank Naeymi-Rad along with 11 others are listed as inventors of the company's pending Application No. 13/622,934 – recently rejected on eligibility grounds.  The claims are directed to a software system for "implementing a controlled vocabulary" within a longitudinal medical record.   The examiner finally rejected all 14 claims for on eligibility grounds (withdrawing the obviousness rejection) — concluding that the claims are directed to the abstract idea of "providing healthcare by generating and processing medical records."
On appeal, the PTAB sided with the examiner – holding that – at a high level of abstraction, the claims "can be characterized as collecting, storing, and organizing … and transmitting information."   Although the examiner acknowledges that the claims are novel and non-obvious, the PTAB still found no inventive concept.
Although the second step in the Mayo/Alice framework is termed as a search for an "inventive concept," the analysis is not an evaluation of novelty or non-obviousness.
On this point, the PTAB quoted Diamond v. Diehr:
The 'novelty' of any element or steps in a process, or even of the process itself, is of no relevance in determining whether the subject matter of a claim falls within the Section 101 categories of possibly patentable subject matter.
Rather than focusing on novelty as the "inventive concept" language suggests, the PTAB indicated its second step goal is a search for something "sufficient to ensure that the patent in practice amounts to significantly more than a patent upon the [ineligible concept] itself" quoting Alice/Mayo.  One approach that works for patentees is to show that their invention is an improvement of computer functionality.  Here, however, the PTAB ruled that the claims simply use computer technology — "generic components … employed in a conventional manner."
IMO argued (through its attorney Richard Beem) that the addition of patient-by-patient controlled vocabulary was a key feature that allowed the longitudinal medical records possible because it allowed for relational storage — reducing memory and increasing speed.  I expect an appeal to the Federal Circuit on these (and other) points.
I list claim 1 below:
1. A method of implementing a controlled vocabulary in a longitudinal electronic medical record, comprising:

generating a first instance of a plurality of data objects during a first encounter, said plurality of data objects comprising data elements further comprising a first instance identifier and temporal identifiers;

linking a data object in said first instance to a summarization reference with a pointer, where the plurality of data objects and the summarization reference are related as part of a directed graph data structure;

creating an additional instance of a plurality of data objects during a later encounter, said additional instance of a plurality of data objects comprising data elements further comprising an additional instance identifier and temporal identifier;

providing continuity for said plurality of data objects of said first instance over time[, wherein said providing step comprises tracking a relationship between said data object of said first instance and a data object of said additional instance];

capturing said controlled vocabulary using a computer by forming a list of medical terms and list of associated descriptions;

creating a list of codes internal to said controlled vocabulary[, wherein said controlled vocabulary maps to at least one of a reference terminology or an administrative terminology];

storing said codes, said medical terms, and said descriptions using a computer in a format suitable for use in the longitudinal electronic medical record; and

tagging elements within a domain within the longitudinal medical record with said controlled vocabulary[.]