Back in 2016, Adidas petitioned the USPTO Director to institute inter partes review (IPR) proceedings against two of Nike's patents. U.S. Patent Nos. 7,814,598 and 8,266,749. Acting on behalf of the Director, the PTAB instituted review of all challenged claims. The caveat – Although Adidas had raised two different grounds for challenging the claims, the USPTO instituted only on ground 1.
Here, the invention basically has three steps: (1) knitting fabric in a cylindrical form and then (2) cutting out a shoe-upper pattern from the fabric; and (3) incorporating the cut-out into a shoe. Grounds 1 and 2 were obviousness challenges with overlapping prior art citations: Ground 1 (Reed and Nishida) and Ground 2 (Castello, Fujiwara, and Nishida). In its final determination – focused just on Ground 1 – the PTAB sided with the patentee Nike and held that Adidas had not met its burden of proving obviousness.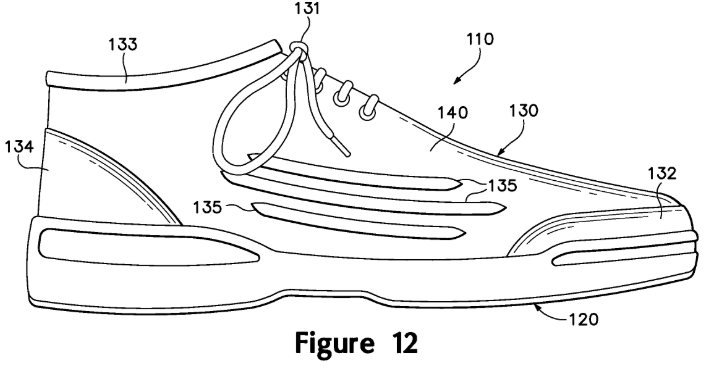 On appeal, Adidas argued that the case should be remanded under SAS Institute Inc. v. Iancu, 138 S. Ct. 1348 (2018). Although SAS focused on institution of all challenged claims – Adidas argues here that the case stands for the proposition that an IPR petition may only be granted/denied as a whole – if is granted, it must be granted as a whole, including all grounds for challenging all claims. Further, Adidas argues for remand because the PTAB has changed its own rules and now institutes review on all challenges raised in a petition. See Guidance on the Impact of SAS on AIA Trial Proceedings (Apr. 26, 2018).
The Federal Circuit has now sided with Adidas – ordering remand to consider all grounds raised by the petition as required by SAS. [Read the Decision: AdidasNike]
The appellate court writes:
The [Supreme] Court explained in SAS that in establishing inter partes review, Congress set forth "a process in which it's the petitioner, not the Director, who gets to define the contours of the proceeding." The Court held that if the Director institutes review proceedings, the review must proceed "in accordance with or in conformance to the petition," a "petition describing 'each claim challenged' and 'the grounds on which the challenge to each claim is based,'" (quoting 35 U.S.C. § 312(a)(3)). "Nothing suggests the Director enjoys a license to depart from the petition and institute a different inter partes review of his own design." The [Supreme] Court found that "the petitioner's petition, not the Director's discretion, is supposed to guide the life of the litigation," and "that the petitioner's contentions, not the Director's discretion, define the scope of the litigation all the way from institution through to conclusion."
Nike argued that Adidas had also waived its right to present the alternative grounds by failing to raise the issue before the Board. On appeal, the Federal Circuit found "waiver inapplicable" in this case because the request on appeal was filed as "a prompt remand request due to the significant change in the law."
= = = =
Looking back at the institution decision and reasons for denial on Ground 2, the PTAB explained that the petition "fail[ed] to identify 'with particularity' the grounds and evidence that form the underlying basis for Petitioner's patentability challenge. For instance, with respect to claim 1, the claim chart offered to point out where the features of the claim are present in the prior art spans four pages and constitutes bulk citation to portions of Castello, Fujiwara, and Nishida. See Pet. 34–37. Such an approach does not provide meaningful "particularity" sufficient for the panel to ascertain where, specifically, Petitioner identifies the limitations of the claim in the prior art."