BSG Tech v. BuySeasons, Inc. (Fed. Cir. 2018)
On appeal here, the Federal Circuit affirms a lower court ruling that the claims of BSG's three asserted patents are invalid as ineligible under 35 U..S.C.  § 101. U.S. Patent Nos. 6,035,294, 6,243,699, and 6,195,652.
The claims relate to indexing a database according to "relative historical usage information."  Thus, in an automobile database with a "model" parameter, the system could display index by the popularity of the various models.  In the claims, the popularity is measured by prior users of the system.  Note here – the claims don't technically require indexing by the frequency, only being able to access that information.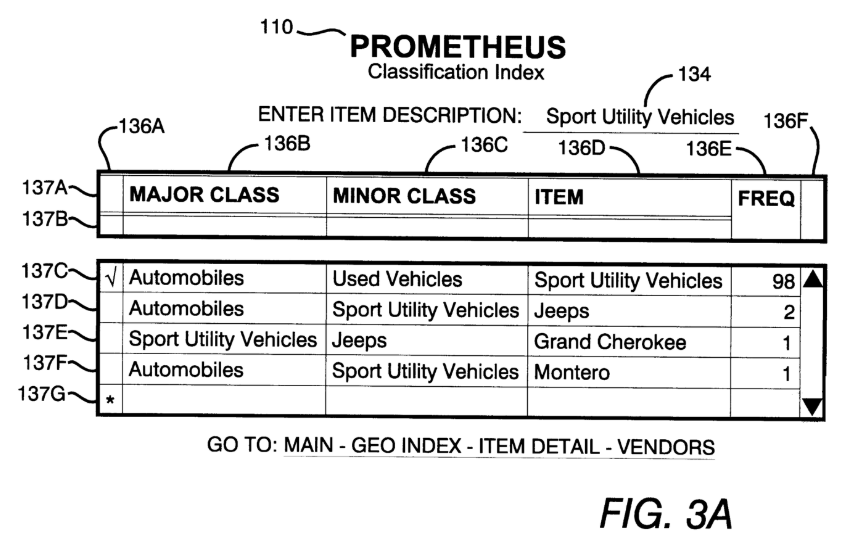 The patents here have been asserted in 50+ lawsuits – the vast majority of these cases settled up until E.D.Tex. Judge Schroeder ruled them ineligible.
On appeal, the Federal Circuit made fairly quick work of the patents finding:
The asserted claims are directed to the abstract idea of considering historical usage information while inputting data; and
The claims do not include anything beyond the abstract idea sufficient to transform the claim into a patent-eligible invention.
In making its determination, the court distinguished DDR Holdings, LLC v. Hotels.com, L.P., 773 F.3d 1245 (Fed. Cir. 2014) — holding here that the use of historical information is not "rooted in computer technology." "Whether labeled as a fundamental, long-prevalent practice or a well-established method of organizing activity, this qualifies as an abstract idea."
Enfish was a similar case — also involving a self-referential database structure.  That case, the court determined that the focus was on database function and machine efficiency. Here, on the other hand, the historical information is stored just like any other data. "The claims do not recite any improvement to the way in which such databases store or organize information analogous to the self-referential table in Enfish or the adaptable memory caches in Visual Memory."
Although the court recognized that underlying factual determinations may inform the legal decision of eligibility — especially whether the "something more" is merely routine application of conventional technology — a court is free to decide the issue as a full question of law if the only inventive concept identified in the claim is the ineligible abstract idea.
Here, the only alleged unconventional feature of BSG Tech's claims is the requirement that users are guided by summary comparison usage information or relative historical usage information. But this simply restates what we have already determined is an abstract idea. At Alice step two, it is irrelevant whether considering historical usage information while inputting data may have been non-routine or unconventional as a factual matter. As a matter of law, narrowing or reformulating an abstract idea does not add "significantly more" to it.
Ineligiblity affirmed.