In re Facebook (Fed. Cir. 2018) (nonprecedential opinion)
Facebook's U.S. Patent Application No. 13/715,636 claims a method for displaying a set of images after reshuffling or resizing the images.  The Examiner rejected Claim 1 (below) as anticipated; and that rejection was affirmed by the Patent Trial and Appeal Board.  Now on appeal, the Federal Circuit has reversed and remanded — finding that the USPTO had too loosely interpreted the prior art.
The claimed image rendering process begins with a sequence of images. Each image is assigned a "first position" within an "array of contiguous image elements" — in other words, the images are put in a particular order.  When a user adjusts the position or size of an image — there may be a need for reshuffling of the images into "second positions."  The claimed method includes a requirement that the reshuffled sequence "be contiguous." — i.e., no gaps in the array.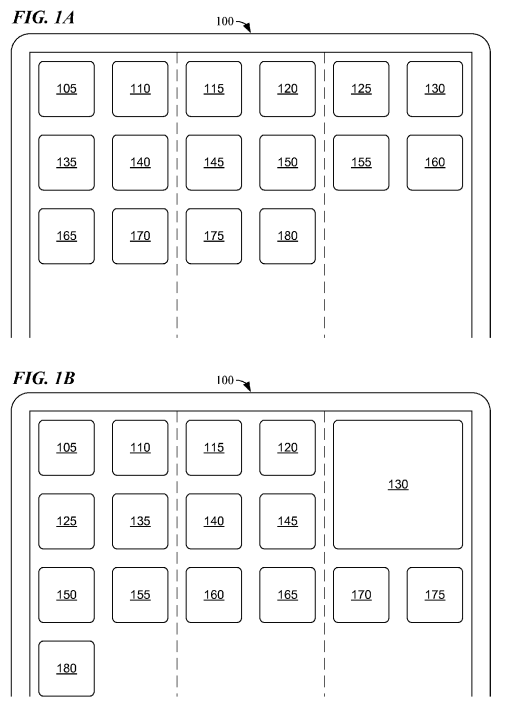 Notice the reshuffle above that occurred from 1A to 1B when a user resized image 130.
The claims expressly require that the reshuffle retain contiguity.  The problem for the PTO is that the identified prior art (Perrodin) did not require contiguity "in all cases."   The court wrote:
Nothing about Perrodin's algorithm required contiguity. It is true that the example depicted in Figures 18 and 19 happened to result in contiguity. But that cannot represent a general rule that would demand contiguity for all images, as required by the claims here. . . . Perrodin's algorithm could not guarantee contiguity.
So, we have a situation here where the prior art teaches contiguity-after-reshuffle, but is also open to situations where a reshuffle might result in non-contiguity.  The claims – on the other hand – include "a rule requiring [contiguity]."  Since the prior art does not include the rule requiring contiguity, it cannot anticipate.
The court here did not discuss obviousness because the PTO had conceded that "the anticipation and obviousness rejections rise and fall together."
= = = = =
Claim 1 of the Facebook application reads as follows:
1. A method comprising:

by a computing device, determining a sequence of image elements;

by the computing device, determining, for each image element in the sequence, a first position in an array of contiguous image elements, the first position being based on a size of the image element, an order of the image element in the sequence, and dimensions of the array;

by a computing device, determining, in response to an instruction to adjust the position or size of a first image element, a second position in the array for at least one second image element, the second position determined based on a rule requiring the image elements to be contiguous such that each available image position between the first image element in the sequence and the last image element in the sequence is occupied by an image element; and

by the computing device, providing information to render the array of contiguous image elements.