by Dennis Crouch
The new DuPont v. Synvina decision is important for its specific application obviousness of claim ranges.  It also creates some amount of tension with prior cases — particularly Dynamic Drinkware and Magnum Oil – regarding burden shifting within Inter Partes Review proceedings.
E.I. DuPont de Nemours v. Synvina C.V. (Fed. Cir. 2018)
In its Inter Partes Review (IPR) final decision, the Board sided with the patentee — finding that DuPont hadn't proven Synvina's challenged chem-prep patent obvious. (Claims 1-5 and 7-9 of U.S. Patent 8,865,921.)  On appeal, the Federal Circuit has reversed — um actually, the claims are obvious.
Claim 1 is directed to a method of preparing FDCA — an organic compound known since 1876.  FDCA can be made from plant-sugars and then used to make plastic and other polymers.
The claim requires only one step — "contacting a feed . . . in the presence of an oxidation catalyst . . .  at a temperature between 140° C. and 200° C. [and] at an oxygen partial pressure of 1 to 10 bar."   The claim particularly defines the "feed" ("a compound selected from the group consisting of [HMF], an ester of [HMF], [5MF], . . .  and a mixture of two or more of these compounds with an oxygen-containing gas" as well as the catalyst ("both Co and Mn, and further a source of bromine") and indicates that the claimed contacting takes place in the presence of "acetic acid or acetic acid and water mixture".
One-step methods were already known for preparing FDCA, but disclosed different temperature, pressures, solvents, and catalysts.  The closest identified prior art references are listed below as comparisons to the aforementioned claim 1.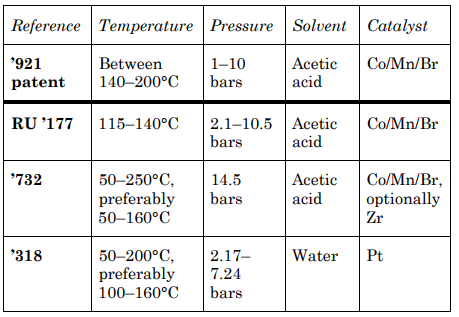 In a number of prior cases, even pre-KSR, the Federal Circuit has found a "prima facie case of obviousness" when ranges within the prior art overlap with that of the claimed invention.
A prima facie case of obviousness typically exists when the ranges of a claimed composition overlap the ranges disclosed in the prior art.
In re Peterson, 315 F.3d 1325 (Fed. Cir. 2003).  That prima facie case may be overcome by evidence from the patentee — by providing evidence of unexpected results, for example.  Here, however, the PTAB did not apply this burden-shifting approach — rather, the Board cited Dynamic Drinkware and Magnum Oil as prohibiting this old-style burden-shifting framework in the IPR context.
On appeal, the Federal Circuit holds here that the traditional obviousness burden-shifting associated with ranges applies to IPR proceedings.  To be clear, the patentee never has the burden of proving non-obviousness.  But, once a prima facie case of obviousness is established, the claims will be cancelled unless the patentee provides evidence to support its position.  The court explains:
While a patentee technically has no "burden" to do anything to defend the validity of its patent other than hold the patent challenger to its own burden of persuasion, that burden of persuasion is necessarily satisfied when there is no evidentiary reason to question the prior art's disclosure of a claimed range. Magnum Oil is not to the contrary.
Having articulated the standard, the court then looked at evidence presented — finding that "[t]he ranges disclosed in the prior art overlapped with those of claim 1."  In particular, the court pieced together the cited references above to show overlap — when taken as a whole.  That overlap created a prima facie case of obviousness — and the patentee was unable to present evidence to unseat that initial conclusion. "At bottom, this case involves a strong case of obviousness based on very close prior art and weak evidence of nonobviousness."