by Dennis Crouch
Data Engine Techs. LLC v. Google LLC (Fed. Cir. 2018)
D.Delaware Judge Stark dismissed DET's case on the pleadings — holding that the Borland/DET spreadsheet-tab patent claims were directed to abstract ideas.  On appeal, the Federal Circuit has partially reversed — finding that some of the claims are directed toward "specific improved method for navigating through complex three-dimensional electronic spreadsheets" and thus are patent eligible. The decision here is authored by Judge STOLL and joined by Judges REYNA and BRYSON.
The patents at issue here basically cover the use of tabs in a spreadsheet document. You might be thinking – "WHAT I'VE BEEN USING TABS FOR 25 YEARS" — at least that is what I was thinking.  The thing is that DET's patents were invented by folks at Borland Software — maker of Quattro Pro — and claim priority back to 1992. BOOM! Microsoft came out with its tabbed version of Excel in 1993 following Borland's release. Back then I used Quattro Pro – and tabs were awesome.  The case here is against Google for its tabbed sheets.
As you'll see below, the claims include a "notebook tab" — and that feature seems to be the key for patent eligibility.  This aspect of the decision makes it fairly questionable.
I'll note that this case may well fit into the IP case-books as a companion to the 1996 Supreme Court case on spreadsheet menu copyright. Lotus Dev. Corp. v. Borland Int'l, Inc., 516 U.S. 233 (1996).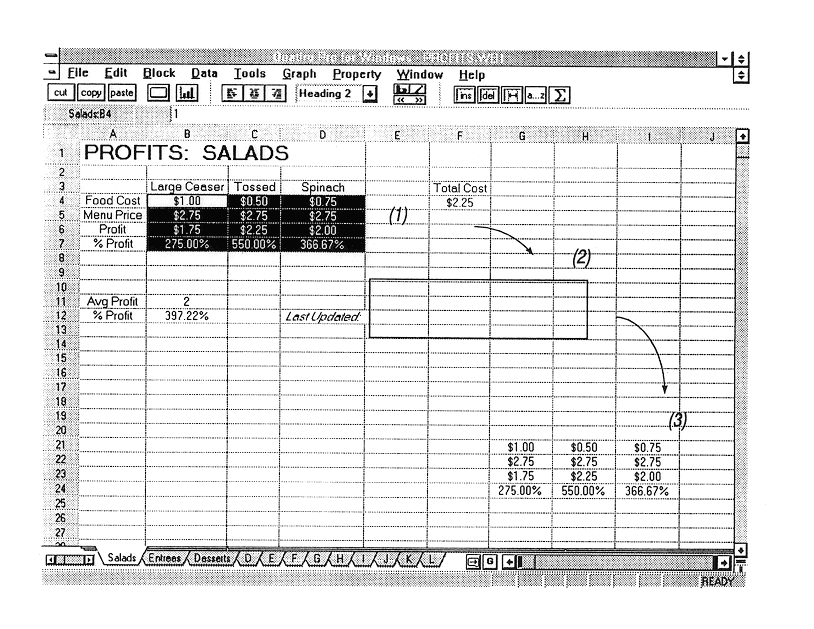 One framework for looking at this decision is by comparing Claims 1 and 3 of DET's U.S. Patent No. 6,282,551.  According to the Federal Circuit, Independent Claim 1 is unpatentable, while dependent Claim 3 is good to go.
Claim 1 is directed to a method of organizing a "three-dimensional spreadsheet" (i.e., multi-tabbed).  However, claim 1 does not particularly claim the notebook tabs — that limitation is added to claim 3.
1. In an electronic spreadsheet … a method for organizing [a] three-dimensional spreadsheet comprising:

[Partition into tabs:] partitioning [a] plurality of cells into a plurality of two-dimensional cell matrices so that each of the … cell matrices can be presented to a user as a spreadsheet page;

[Name each tab:] associating each of the cell matrices with a user-settable page identifier …;

[Cells referencing other tabs:] creating in a first cell of a first page at least one formula referencing a second cell of a second page said formula including the user-settable page identifier for the second page; and

[Saving the tabs in files:] storing said first and second pages of the plurality of cell matrices such that they appear to the user as being stored within a single file.

3. The method of claim 1, further comprising:

associating the plurality of cell matrices  with a notebook identifier, whereby information stored in a first plurality of cell matrices may be referenced from a second plurality of cell matrices.
The court explained the problem with Claim 1 as follows:
We conclude that under Alice step one, [claim 1] is directed to the abstract idea of identifying and storing electronic spreadsheet pages. . . . [The claim] generically recites "associating each of the cell matrices with a user-settable page identifier" and does not recite the specific implementation of a notebook tab interface. Claim 1 of the '551 patent is therefore not limited to [a] specific technical solution and improvement in electronic spreadsheet functionality . . . Instead, claim 1 of the '551 patent covers any means for identifying electronic spreadsheet pages.
By implication, Claim 3 is patent eligible because it includes the limitation that the cell matrices (pages) are associated with notebook identifier (a tab).   I personally don't see how claim 3 adds "something more" in a specific enough manner to transform the claim 1 into a patent eligible invention.
In its eligibility determination, the court spends most of its time focused on claim 12 of U.S. Patent No. 5,590,259.  Claim 12 is a different story than claims 1 and 3 above and does appear to cross a threshold from generically claiming aspects of an invention to very specifically zeroing in on how the user interface operates at a detailed functional level:
12. [A] computer-implemented method of representing a three-dimensional spreadsheet on a screen display, the method comprising:

displaying … a first spreadsheet page from a plurality of spreadsheet pages, …;

while displaying said first spreadsheet page, displaying a row of [user-settable] spreadsheet page identifiers along one side … each … being displayed as an image of a notebook tab … and indicating a single respective spreadsheet page…;

receiving user input … in response to selection with an input device of a spreadsheet page identifier for said second spreadsheet page;

[responsively] displaying said second spreadsheet page … in a manner so as to obscure said first spreadsheet page from display while continuing to display at least a portion of said row of spreadsheet page identifiers; and

receiving user input for entering a formula in a cell on said second spreadsheet page, said formula including a cell reference to a particular cell on another of said spreadsheet pages having a particular spreadsheet page identifier comprising at least one user-supplied identifying character, said cell reference comprising said at least one user-supplied identifying character for said particular spreadsheet page identifier together with said column identifier and said row identifier for said particular cell.
In reviewing this claim, the court explains:
When considered as a whole, and in light of the specification, representative claim 12 of the '259 patent is not directed to an abstract idea. Rather, the claim is directed to a specific method for navigating through three-dimensional electronic spreadsheets. The method provides a specific solution to then-existing technological problems in computers and prior art electronic spreadsheets. The specification teaches that prior art computer spreadsheets were not user friendly. . . .

The Tab Patents solved this known technological problem in computers in a particular way—by providing a highly intuitive, user-friendly interface with familiar notebook tabs for navigating the three-dimensional worksheet environment…. The invention was applauded by the industry for improving computers' functionality as a tool able to instantly access all parts of complex three-dimensional electronic spreadsheets. Numerous contemporaneous articles attributed the improved three-dimensional spreadsheets' success to its notebook tab feature.

Representative claim 12 recites precisely this technical solution and improvement in computer spreadsheet functionality. The claim recites specific steps detailing the method of navigating through spreadsheet pages within a three-dimensional spreadsheet environment using notebook tabs. . . . The claimed method does not recite the idea of navigating through spreadsheet pages using buttons or a generic method of labeling and organizing spreadsheets. Rather, the claims require a specific interface and implementation for navigating complex three-dimensional spreadsheets using techniques unique to computers.
There is lots more to think about with this case, but this is enough for one post.