by Dennis Crouch
Bruce Schlafly v. St. Louis Brewery (Fed. Cir. 2018)
Thomas Schlafly started the St. Louis Brewery and began selling SCHLAFLY beer in 1991.  When the company finally got around to registering the mark in 2011, some of his relatives opposed the registration. Thomas's aunt, Phyllis Schlafly (now deceased) and her son Bruce Schlafly both filed oppositions.  Andrew Schlafly (another son of Phyllis) was the lawyer for her case.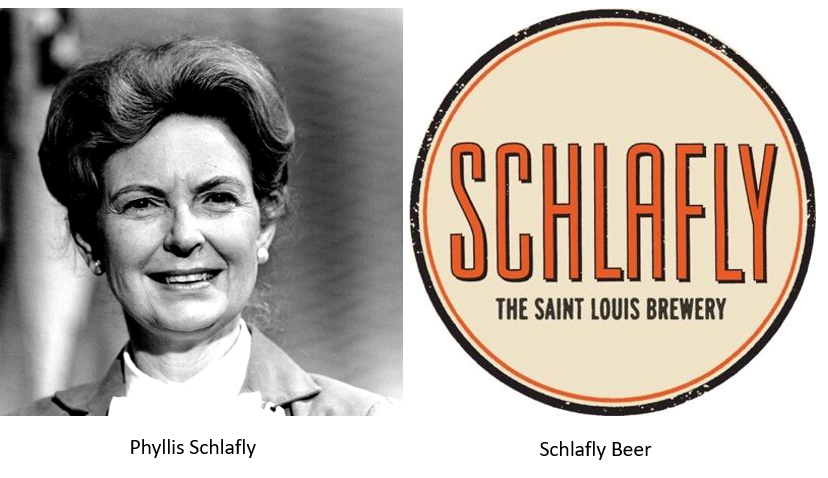 The opposition here focused on the Phyllis Schlafly brand — arguing that  "the
surname Schlafly is primarily associated in the minds of the public with Phyllis Schlafly and the traditional values that she represented."  Phyllis Schlafly was a conservative activist who opposed the Equal Rights Amendment, rejected the idea of "marital rape" ("by getting married, the woman has consented to sex"), and co-wrote the ABA's influential Red-Scare guide to  "Communist Tactics, Strategy, and Objectives." [PDF of Guide: CSTO]
In the opposition proceedings, the TTAB sided with St. Louis Brewery — finding that the mark had acquired distinctiveness and that there was no evidence of "market proximity" between the beer and Schlafly's political work.
Of importance to the appeal — Section 2(e)(4) of the Lanham Act prohibts registration of a mark that "is primarily merely a surname." On appeal, the Federal Circuit affirmed the registration — holding that the distinctiveness test is appropriate even for words that primarily known as surnames:
No law or precedent suggests that surnames cannot be registered as trademarks if they have acquired distinctiveness in trademark use. Because the Board found that the SCHLAFLY mark for beers had acquired secondary meaning, Section 1052(e)(4) did not bar the registration.
Correct outcome here on the law. The prohibition found in 2(e)(4) basically sets up a system where a word that is primarily a surname will never be assumed distinctive. Rather the applicant must prove acquired distinctiveness to overcome the limits of Section 2(e)(4).
The opposition also argued that the trademark registration by the Beer company will impinge their First Amendment free speech rights and also represents a governmental taking in violation of the Fifth Amendment of the U.S. Constitution and a due process violation.  The Federal Circuit rejected these arguments out of hand.