by Dennis Crouch
Following up on the patent experience of US Attorney General Matthew Whitaker.  Although not a patent attorney, Whitaker has been a board member of the now defunct invention promotion scam World Patent Marketing.  In 2017, the Federal Trade Commission (FTC) filed suit against the company, won a preliminary injunction against its ongoing business, and then a consent decree for $27 million in judgments and injunction against ongoing business.  (Apparently at least $24 million is gone and not being repaid.)
Gene Quinn has written extensively about invention marketing scams discussed the preliminary injunction on his IPWatchdog site.  Quinn explains:
"The record supports a preliminary finding that Defendants devised a fraudulent scheme to use consumer funds to enrich themselves," concluded United States District Judge Darrin P. Gayles. "Accordingly, the Court finds a preliminary injunction is necessary to maintain the status quo pending a trial on the merits."

Perhaps most egregious, however, were the threats and intimidation World Patent Marketing directed toward complaining customers.
As a former Federal Prosecutor, Whitaker's place on the Board lent the company a high level of credibility. For lending his name, Whitaker was paid only about $600 per month.  At the time, Whitaker was also managing director of his own small Iowa law firm and penned at least one letter toward a complaining customer: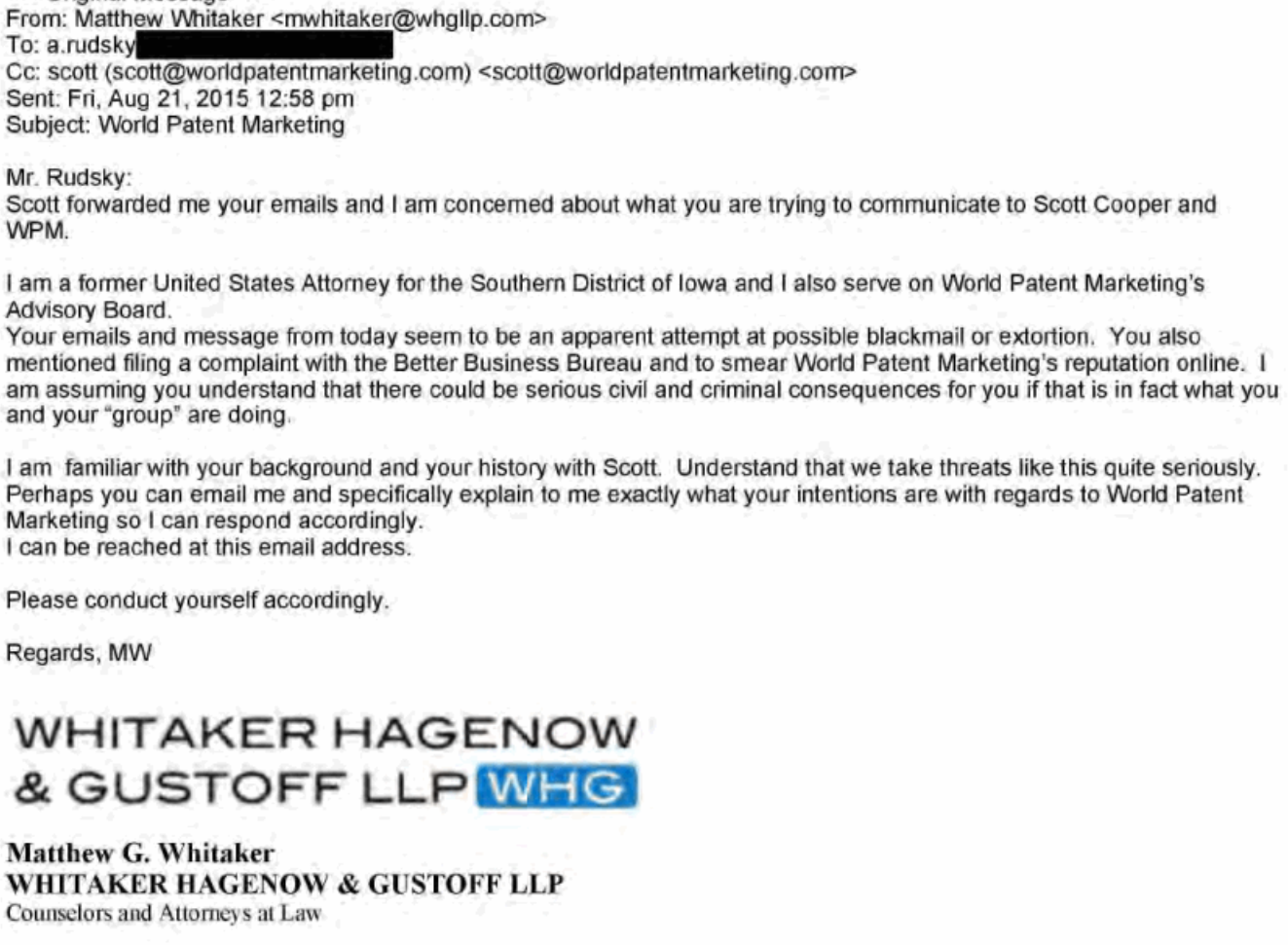 Whitaker was not prosecuted by the FTC and was not named in either the preliminary injunction or the consent decree.  Unlike other board members, Whitaker has not returned the cash he received in the scheme and has made no public statement regarding his role or the scam.  My hope is that the AG will have learned from this experience, however his ongoing silence on the issue is troubling.