Stephen Yelderman is a Professor of Law at the University of Notre Dame Law School.

Not all prior art is created equal. The ease of finding what's been done before can vary dramatically—from a prior U.S. patent cited by hundreds of applicants, to the dusty doctoral thesis sitting on the shelf of a foreign library. So one might wonder: when district courts invalidate patents on prior art grounds, do they typically rely on prior art that the inventor, or the USPTO, or even a reasonably diligent searcher could plausibly have found? Or do courts regularly invalidate patents on the basis of art that only the most determined litigant could have possibly uncovered?
For the last year or so, I have been working with a team of research assistants to attempt to answer these and other questions. Drawing directly from district court dockets, we collected every decision invalidating a patent claim over a six-and-half-year period. We then coded these on a claim-by-claim, reference-by-reference basis to learn how district courts rely on prior art. Over the next several weeks, I'll be highlighting some of the more interesting things we've uncovered. In this post, I'll start by sharing some of our top-level findings and briefly explaining our collection methodology. (If you'd like to see our full results right away, a draft of the paper is available for download here.)
First, some may be surprised to learn that district court invalidation appears to be evenly split between anticipation and obviousness. This is true whether one measures by patents or claims: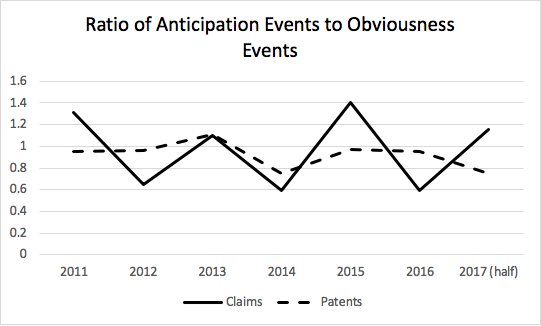 Over our study period, the number of claims invalidated for anticipation (1,636) almost exactly equaled the number of claims invalidated for obviousness (1,620). As the chart above shows, while there was some up and down from year to year, the ratio held very close to 1 throughout our study period.
However, the similarities end there. In terms of the prior art relied upon to invalidate claims, anticipation and obviousness are two very different animals: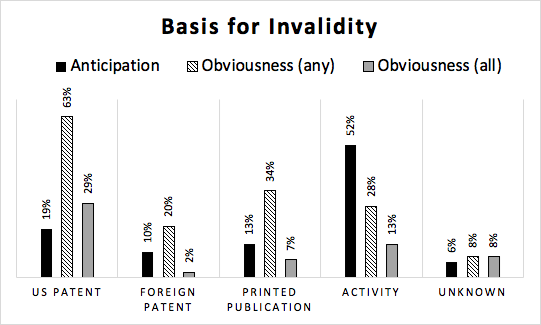 The black columns indicate the percentage of anticipation invalidations citing each category of prior art. As you can see, district court findings of anticipation rely predominantly on activity prior art (defined to include prior uses, sales, and invention by another—old § 102g).  After that, in descending order of frequency, come U.S. patents, printed publications, and foreign patents.
Obviousness invalidations are a bit harder to summarize concisely, since they can be based on multiple references. The hashed columns indicate the percentage of obviousness invalidations citing any art in that category; the gray columns indicate the percentage of obviousness invalidations citing art only in that category. The headline here is that U.S. patents are by far the most commonly cited category of prior art for obviousness: nearly two thirds of obviousness invalidations cite at least one U.S. patent. But less than one third of obviousness invalidations cite only U.S. patents. A similar theme bears out across the rest of the chart. When courts combine multiple references to find a claim obvious, they often do so by combining art across categories—a U.S. patent combined with a prior sale, for example, or a foreign patent combined with a printed publication.
Each of these top-level categories will be explored in more detail in subsequent posts. I'll close this one with a bit of background about our collection methodology. For purposes of this study, our focus was limited to claim invalidity as found by district courts. Therefore, our data does not capture every distinct argument the defendant made for invalidity, or judicial findings that a claim was "not invalid." It also does not reflect the ways these decisions may have been modified on appeal. We believe our data does capture every district court determination that a claim was invalid, whether in a published opinion, unpublished document, or jury verdict. In a few cases, these documents did not clearly specify on their face which references supported the conclusion of invalidity. When this occurred, we consulted other documents on the docket (such as post-trial briefing) to identify the prior art supporting the court's conclusions. When we could not find a conclusive answer, we coded the prior art as "unknown" (the final category in the chart above). Additional details about how we collected and coded these documents can be found in Part II of the paper.
Finally, when interpreting all of this data, one should keep in mind that this is a study of how district courts cite prior art, not a study of patent quality overall. A tiny fraction of issued patents are ever litigated, and only a tiny fraction of those are litigated to a determination of validity. Moreover, the incentives to litigate or settle a patent dispute could very well turn on the nature of the prior art in a case, so the possibility of selection effects is real. Therefore, this data should only be used to answer questions about why patents are invalidated in district court, not why patents might be invalid in general.