by Dennis Crouch
The Eastern District of Texas winds its way from the gulf coast along the Louisiana and Arkansas border and up to Oklahoma. The district does not include of the largest Texas cities, but it does include the Dallas suburb of Plano (we can debate whether it is a suburb, but it is). Plano is important because it is Corporate HQ for a number of large companies and also serves as regional HQ for many others. 
Plano is also supporting E.D.Tex. as an ongoing venue for patent infringement cases.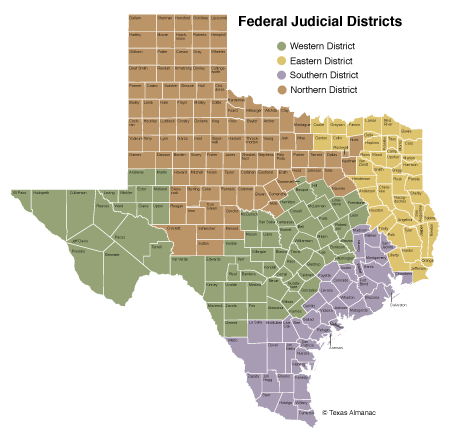 In TC Heartland (2017) the Supreme Court ruled that a patent infringement lawsuit against a US company can only be filed in a venue (1) where the defendant is registered as a corporation (i.e., "a Delaware Corporation"); or (2) a venue where the defendant "has committed acts of infringement and has a regular and established place of business."  Quoting 28 U.S.C. 1400(b).  Previously, the Federal Circuit had ruled that venue was proper in any court with personal jurisdiction over the defendant.
The new narrower venue rules have shifted the field because many prior E.D.Tex. defendants are not Texas Corporations and do not satisfy the alternate "regular and established place of business" prong of the proper venue test.  The resulting shift has been major. Prior to TC Heartland about half of patent infringement lawsuits were filed in E.D.Tex; Now the number has dropped to about 14%.
I wanted to look at who is still getting sued in E.D.Tex.  For this mini-study, I just looked at the original complaints of the 18 patent infringement lawsuits filed in E.D.Tex during the first three weeks of 2019.  Of the 18, the vast majority (two-thirds) assert venue based upon the defendant having a regular and established place of business located in Plano.  The remaining lawsuits can be broken into two different categories for venue: Three (17%) involve defendants that are residents of Texas and whose HQs are located in the District; and three more (17%) are foreign defendants who can are arguably not limited by the two-prong TC Heartland test, but rather can be sued in any jurisdiction for venue purposes. 28 U.S.C. 1391(c)(3).
Cases:
PlasmaCAM, Inc. v. Fourhills Designs, et al al
Hawk Technology Systems, LLC v. Whitesboro Independent School District
Ironworks Patents LLC v. AsusTek Computer Inc.
Rembrandt Wireless Technologies, LP v. Apple Inc.
ICON Health & Fitness, Inc. v. Flywheel Sports, Inc.
Proximity Sensors of Texas, LLC v. AMS-TAOS USA, Inc.
Axcess International, Inc. v. Avigilon USA Corporation
Beverage Packaging Solutions LLC v. PepsiCo, Inc. et al
Fireblok IP Holdings, LLC v. Hilti, Inc.
Luraco Health & Beauty LLC v. Tran et al
Flectere LLC v. United Parcel Service, Inc.
Flectere LLC v. Target Corporation
Flectere LLC v. FedEx Corporation
Flectere LLC v. Costco Wholesale Corporation
Akoloutheo, LLC v. Palo Alto Networks, Inc.
Akoloutheo, LLC v. Mitel Networks, Inc. et al
UnoWeb Virtual, LLC v. Open Text, Inc.
UnoWeb Virtual, LLC v. TBC-Monde, Inc.