by Dennis Crouch
Xactware Solutions, Inc. v. Eagle View Techs., Inc. (Fed. Cir. 2019)
Both of these companies use drones to measure houses — their reports are then used for roofing, solar, and insurance estimates. In 2015, Eagle View sued Xactware for patent infringement — that case is ongoing.  Meanwhile, Xactware filed a series of inter partes review petitions – the subject of the appeal here.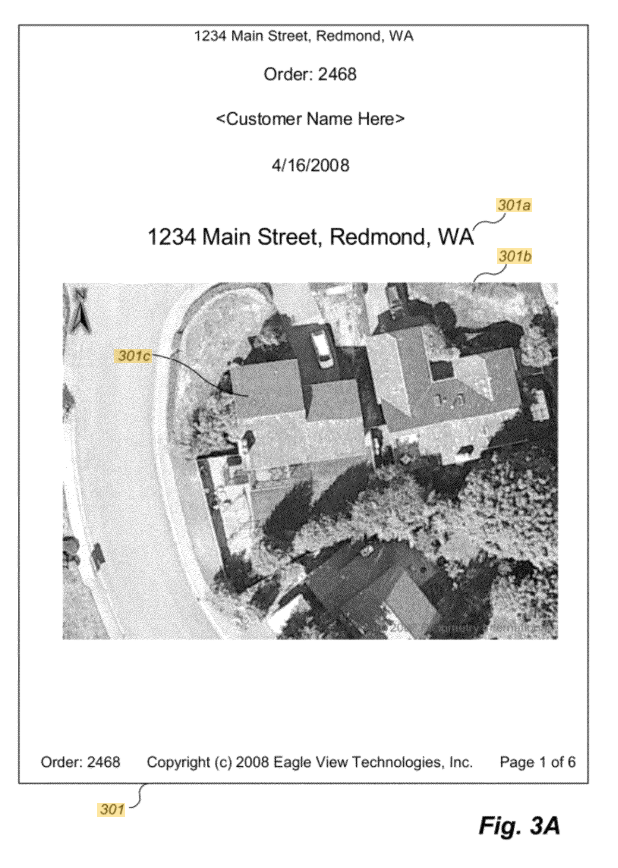 For its part, the PTAB agreed to hear the IPRs — finding initially that the petitions had merit.  Ultimately, however, the PTAB sided with the patentee and found in its final decision that the challenged claims were not proven invalid. On appeal, the Federal Circuit has also affirmed.
Nexus between Secondary Indicia and the Claimed Invention:  The briefing focused on Eagle View's secondary indicia of non-obviousness.  The service is clearly commercially successful and has been lauded with industry praise for solving solving a long-recognized problem.  Xactware argued, however, that these secondary indicia did not have a close enough nexus with the particular inventions claimed in the patents.  Without discussion, the Federal Circuit concluded that the Board's finding of nexus was supported by substantial evidence.
Presumption of Nexus. The court did not touch the trickier question of presumption-of-nexus.
Patent claims are presumed patentable and non-obvious.  Thus, any obviousness challenge must present evidence sufficient to overcome that presumption.  Secondary indicia of nonobviousness are akin to rebuttal evidence — only needed if the challenger meets that initial prima facie burden.
Secondary indicia of non-obvousness involve two important elements (1) the indicia itself (such as commercial success or industry praise of a product); and (2) a nexus between the indicia and the claimed invention at issue.  This second element – nexus – is generally more difficult to actually prove.  However, the Federal Circuit has created a presumption-of-nexus doctrine.  We assume a nexus if the patentee shows that the successful/praised product (1) "embodies the claimed features" and (2) is "coextensive with the claimed features." Brown & Williamson Tobacco Corp. v. Philip Morris Inc., 229 F.3d 1120, 1130 (Fed. Cir. 2000).  Here, the "coextensive" requirement prevents presumption-of-nexus when the claimed invention is just a small component of a multi-component product. However, we have an ongoing debate on how to know when a product has too-many non-claimed-features to still be coextensive with the claims.
Although the parties asked for further guidance on this issue, the Federal Circuit ruled that no determination on presumption-of-nexus was necessary because the patentee had provided actual proof of nexus — that the claimed features were the cause of the success/praise/etc.
= = = = =
Of note, the first result of my Google search for "xactware" is an advertisement for EagleView. I am amused but not confused. See Eric Goldman, Another Court Says Competitive Keyword Advertising Doesn't Cause Confusion, Technology & Marketing Law Blog (2018).