FY2019 is over and the numbers are out.  The USPTO has issued 336,886 utility patents during the fiscal year. This is a big increase over both FY2018 (306,912) and FY2017 (315,367).
My take: The change here is substantially due to Dir. Iancu, including (but not limited to) his push on limiting the scope of examiner eligibility analysis.  The chart below superimposes images of the USPTO Director at around their start-date.  If you recall, Jon Dudas was known for limiting patent grants ("second pair of eyes review"); David Kappos opened the door with collaborative patenting ("right-sized patents"); Michelle Lee turned things back down with a focus on "patent quality"; and  finally, Andrei Iancu 'We will not continue down the same path.'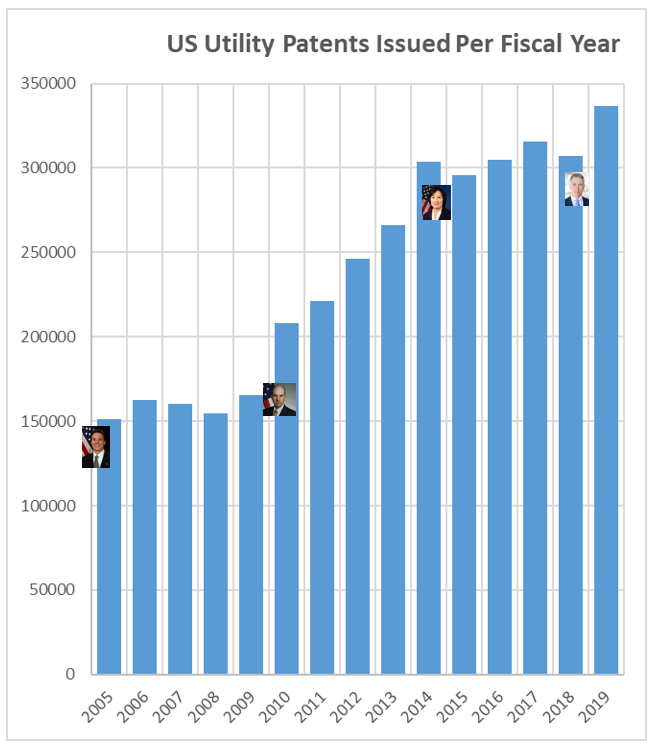 From today's obvious patents comes U.S. Patent 10,425,977:
1. A wi-fi connection method for a mobile terminal, comprising:

obtaining wi-fi hotspots near the mobile terminal;

obtaining a data list and location information of the wi-fi hotspots;

sending the data list and the location information to a server;

analyzing, via the server, the data list and the location information to obtain password information of an available wi-fi hotspot, and sending the password information of the available wi-fi hotspot to the mobile terminal; and

connecting, at the mobile terminal, the available wi-fi hotspot based on the password information.