by Dennis Crouch
In re Extreme Technologies, LLC (Fed. Cir. 2019)
In a short opinion, the Federal Circuit has denied Extreme Tech's petition for writ of mandamus directing transfer of its case before S.D.Tex Judge Hughes to S.D.Tex Judge Bennett. (Note, this case is about District Court Judge Lynn Hughes, not Federal Circuit Judge Todd Hughes).

Extreme first sued Stabil Drill for patent infringement in S.D. Tex. accusing Stabil's eccentric reamer of infringing three of Extreme's patents. Within a week, Extreme filed a notice of dismissal and refiled the same complaint in W.D. Louisiana.  The S.D. Tex. had been assigned to Judge Hughes who terminated the case.  Judge Hughes order included the statement that "If refiled in or removed to this district, the case will be assigned to Judge Lynn N. Hughes."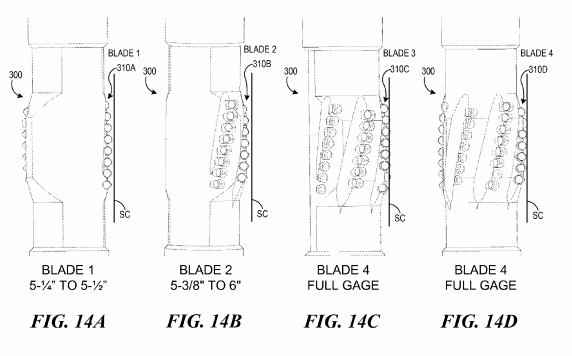 I'll note here that the Fed. Rules of Civil Procedure provide for dismissal by a plaintiff "without a court order" if filed prior to the defendant's answer (or summary judgment motion).  Rule 41(a)(1)(A)(i).  Thus, under the rules the plaintiff's notice of dismissal ended the case and there was no need for Judge Hughes to file the termination papers ex post. 

Now in Louisiana: Stabil filed a motion for venue transfer and the Louisiana agreed to send the case back to Texas.  Although venue was "proper" in Louisiana, the court concluded that Extreme Tech was engaged in "Judge Shopping" and that factor weighed in favor of shifting venue.

When the case arrived back in S.D.Tex., it was randomly assigned to Judge Bennett who, noting the prior statement in the case file, transferred the case back over to Judge Hughes. Judge Hughes accepted the case and refused to send it back to Judge Bennett.
Extreme Tech then filed a petition for writ of mandamus to keep the case before Judge Bennett. The basic argument is that Judge Hughes post-dismissal order to return the case to him was improper.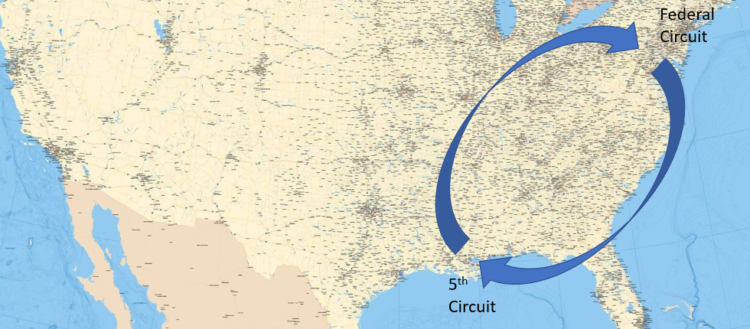 One obvious quirk is that the petition was filed with the 5th Circuit Court of Appeals and not the Federal Circuit.  The 5th Circuit has some good law for the patentee — having previously told Judge Hughes that "he cannot enter an order after a Rule 41(a)(1)(A)(i) dismissal." (quoting from patentee's brief). In Bechuck v. Home Depot U.S.A., Inc., 814 F.3d 287, 291 (5th Cir. 2016), Judge Hughes had similarly issued a post-dismissal order that "If Bechuck sues Advantage (ASM) for the same cause of action, he must do so before this court."  The 5th Circuit ruled that statement ineffective — rather the plaintiff's dismissal under "Rule 41(a)(1)(A)(i) necessarily allows him to choose his forum anew."
By Statute, the Federal Circuit has jurisdiction over patent cases appealed from district courts. 28 U.S.C § 1295. However, the statute specifically is directed toward an "appeal from a final decision."  The statute does not indicate the proper course of appeal of mandamus actions.  However, the Federal Circuit has also ruled that extraordinary writs associated with district court patent cases are also "plainly" within the court's jurisdiction. In re Princo Corp., 478 F.3d 1345, 1351 (Fed. Cir. 2007);  In re Regents of the Univ. of Cal., 964 F.2d 1128, 1130 (Fed. Cir. 1992).  Although the Federal Circuit has grabbed-power, the 5th Circuit has not clearly relinquished power — in that I'm not aware of a 5th Circuit decision affirming Princo. (I have not done an exhaustive search).
Back to the case: The 5th Circuit apparently (without opinion) sent the whole file to the Federal Circuit who has now ruled on the case — denying mandamus:
Judge Bennett did not violate any clear and indisputable authority in transferring this case to Judge Hughes. To the extent that Extreme believed Judge Hughes exceeded his authority in issuing his initial order, it could have timely appealed from that decision but elected not to do so. Under the circumstances, granting this extraordinary relief would not be appropriate.
Extreme Tech Fed Cir Decision.
=  = =  = =
In briefing, the patentee explained its problem with Judge Hughes:
Judge Hughes has been found many times by the Fifth Circuit to have abused his discretion. This particular finding was for exactly the same conduct as in the case at bar. Judge Hughes is, plainly, unconcerned about the Fifth Circuit's interpretation of the law as it applies to him personally. That is a significant problem. Judge Hughes deprives civil plaintiffs of a fair forum, forcing them to waste money on appeals that should be unnecessary, settle on unfavorable terms, or simply quit. Stabil Drill knows this. That is why it is trying so hard to get the case before Judge Hughes. . . .

Judge Hughes has a History Record of Ignoring the Rules and the Law

Extreme's counsel has significant experience with Judge Hughes's approach in handling patent infringement cases. . . . There are over two dozen United States District Court Judges in the Southern District, twelve of which are located in the Houston Division. Somehow, sixty percent of the patent infringement cases filed by Extreme's counsel have been "randomly" assigned to Judge Hughes. Every lawsuit filed in the Houston Division has a one in twelve chance of being assigned to Judge Hughes, or 8.3%. The odds of being assigned to Judge Hughes for six out of ten cases must be incredibly small. Judge Hughes seems to be requesting patent case assignments. The reason is known only to him. He certainly does not think much of patent plaintiffs, as demonstrated by his
record.

In handling patent cases, Judge Hughes routinely denies plaintiffs Constitutional due process under the 14th Amendment and the right to a civil jury trial under the 7th Amendment, refuses to follow the Federal Rules (by denying basic discovery under Rules 26, 30-31, 33-34, and 36, Fed. R. Civ. P.), and rejects the Southern District's Local Patent Rules.

Although Judge Hughes has a copy of the U.S. Constitution on his office desk, he does not believe in the Seventh Amendment. He believes, as he once told the undersigned during a hearing, that patent plaintiffs are wrongly "throwing sand in the gears of competition." None of the six patent cases filed by the undersigned that ended up in Judge Hughes's court were granted a jury trial. Some cases were dismissed, and others settled after years of Judge Hughes's one sided rulings on behalf of accused patent infringers. Sadly, this experience is not unique. Attached as Exhibit A is a list of all the patent infringement cases, according to our research, before Judge Hughes during his career on the federal bench. There are a total of 104 cases. Not a single case made it to trial. . . .
ExtremeTech Brief Opposing Transfer
= = = = =
The defendant's ads include a statement regarding its "patented spiral cutting design."  Does that advertising work the "patent" belongs to your competitor? [I'm joking here, the product is just "accused" of infringement.]