by Dennis Crouch
On December 2, 2019, the Supreme Court is set to hear oral arguments in Georgia v. Public.Resource.org, Inc. 18-1150 on the question of whether the state of Georgia can obtain and protect a copyright on the "Official Code of Georgia Annotated."  Or, is copyright protection prohibited by the government edicts doctrine as the 11th Circuit held.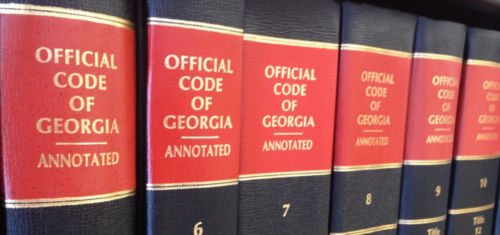 Federal Statute provides that works by the U.S. Gov't are not copyrightable. 17 U.S.C. 105.  However, that provision does not apply to state governments. Here, Georgia hired LexisNexis to annotate and then publish its code.  The contract included a work-made-for-hire agreement and so the state is legally the author and copyright holder (if copyright persists). 17 U.S.C. § 201(b).  Note here that Georgia is (no longer) claiming copyright in the statutes themselves, but is claiming that the annotations are protectable.
A leading case is Callaghan v. Myers, 128 U.S. 617 (1888) that allowed the official reporter to enforce copyright based upon materials added to state court decisions (head-notes, indices, arrangement of cases, and errors).
Even though a reporter may be a sworn public officer, appointed by the authority of the government which creates the court of which he is made the reporter, and even though he may be paid a fixed salary for his labors, yet, in the absence of any inhibition forbidding him to take a copyright for that which is the lawful subject of copyright in him, or reserving a copyright to the government as the assignee of his work, he is not deprived of the privilege of taking out a copyright which would otherwise exist.
Id.  The alleged infringer here argues, inter alia, that the "Official" gov't sanctioned nature of the annotations distinguish this case from Callaghan.
Callaghan is the U.S. Supreme Court's last entry into the government edicts doctrine until now. Since that case the copyright statute has been overhauled in several major ways, including creation of the work-made-for-hire doctrine (prior to that an employer was not seen as an "author") as well as the aforementioned statutory prohibition on copyright where the U.S. Gov't is the author.
Oral arguments are divided with Georgia splitting time with the U.S. Gov't who also argues that copyright protects the annotated code.