by Dennis Crouch
As Congress moves forward impeaching President Donald Trump, business-minded Americans are also looking for ways to monetize the process.  The following are a few recent trademark applications.  Some are still pending while others have been abandoned after receiving rejections from trademark examiners at the US Patent & Trademark Office.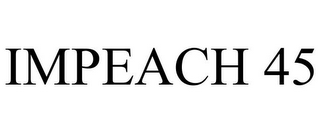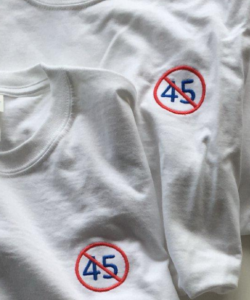 IMPEACH 45. President Trump is the 45th President and so the meaning of this proposed mark (IMPEACH 45) is clear. The USPTO examiner caught the implication and rejected the application "because the applied-for mark consists of or includes something identifying a particular living individual whose written consent to register the mark is not of record."  The applicant then abandoned the registration application. A slightly more cryptic mark made it through the registration process.  The image to the right shows the general prohibition sign  ("no-sign") covering the number 45 that is now a registered mark owned by Kamyar Shadan of Tiburon, CA.
Back in August 2016, it looked like Hillary Clinton would be No. 45.  Thus when Mark Allan filed for IMPEACH THAT BITCH, the TM examiner similarly found that the proposed mark improperly "identifies Hillary Clinton, a living individual."  That registration application has also been abandoned. Other anti-Hillary registration applications include ANYBODY BUT CLINTON, WOMEN AGAINST CLINTON, and the catchy HILLARY.CON. These registration applications have all been abandoned.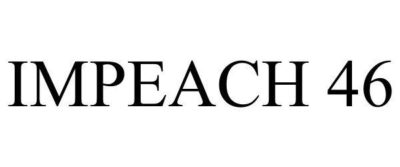 Future Impeachments: One way to potentially overcome the prohibition on registering a mark identifying another person (without their permission) is to register the mark of a future identifier.  Thus, a Florida Attorney (Mitch Soligan) has already filed for rights on IMPEACH 46. Folks better start paying attention to who is running for VP.

MAGA: President Trump's arguably misdescriptive slogan "Make America Great Again" is a registered mark owned by DONALD J. TRUMP FOR PRESIDENT, Inc. Ellen Lust filed her competing application with a catchy addition – "Make America Great Again Impeach Trump."  The Senior markholder (trump-for-president) filed a pre-registration letter of protest and examiner refused to register the mark.
Although American, Lust is a professor of political science at the University of Gothenburg in Sweden. I reached out to Prof. Lust for more information, but she has not responded.

Impeach the President – This abandoned application was filed in 2018 for a board game. Unfortunately, I believe we are still waiting to see the actual game.  Although there is a logo (below) and a website: impeachthepresidentthegame.com.
Impeach the Cheat is a pending TM application filed November 2019 that includes an interesting graphic. "The mark has a meaning of justice being served to an individual for wrong-doing in public office."  This one is graphically interesting with its allusion to Nixon.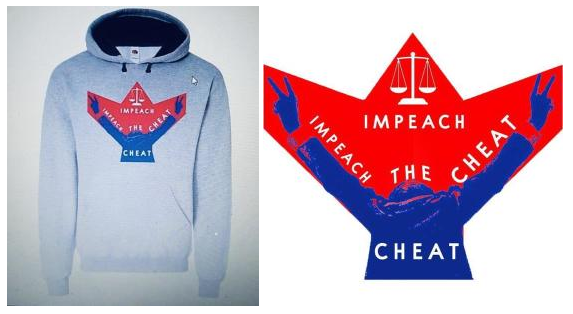 Finally, my favorite is the IMPEACHMINTS – Peach Flavored Mints – that quaintly stretch back to GWB. Hopefully there is no bitter aftertaste.