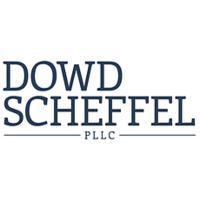 Dowd Scheffel PLLC is seeking candidates for our Technical Legal Assistant position. It is an entry-level position for a recent college graduate, preferably with a technical undergraduate degree, who wants to work in a challenging, entrepreneurial environment and is interested in learning the legal profession with an eye towards law school.
Dowd Scheffel is a boutique law firm focusing on intellectual property ("IP") law, as well as appellate and litigation matters. Our firm was started by two former Federal Circuit clerks, and we are seeking detail-oriented, highly motivated individuals interested in the intersection of technology and the law. Ideally, you have a technical/science degree and are eager to gain hands-on, practical legal experience working for a small law firm. The size of our firm dictates that our Technical Legal Assistant gets opportunities to work closely with attorneys on all aspects of projects, from the mundane to the intellectually complex. We require flexibility, agility, pro-active thinking, and a team-oriented approach—and a sense of humor. This is a great opportunity to get hands-on experience prior to making the plunge into law school.
You will primarily work with the two founding partners to assist them with all aspects of the firm's practice. Our work includes the full range of IP law, from developing ideas with clients and protecting them, through enforcement and/or defense. Our client advocacy includes post-grant proceedings before the U.S. Patent and Trademark Office ("USPTO"), district court litigation, appeals, and Supreme Court advocacy.
We expect an entrepreneurial attitude and a desire to do whatever it takes to serve the clients' interests. Candidates must have a strong work ethic, excellent written and oral communication skills, and a desire to strengthen relationships with clients and tackle legal challenges in a fast-paced environment. At the same time, we treat our Technical Legal Assistant as a colleague who is eager to learn from experienced attorneys.
REPRESENTATIVE RESPONSIBILITIES/ESSENTIAL FUNCTIONS:
Proofreading briefs, correspondence, and other written documents
Working with attorneys and legal assistants on client billable projects
Prepare, update, and maintain document indices, document and database management, basic research, organization of files, compilations of exhibits, proofreading and document retrieval from outside sources (Internet, libraries, courts and agencies)
Actively develop case management, cite-checking and research skills
Perform technical research and compile data as requested by attorneys
Assist with compilation and editing of briefs and applications to be submitted to courts and USPTO
Conduct patentability, right to use, and state-of-the-art patent searches
Manage and maintain case files and documents
Review, process and maintain client dockets for filing deadlines, including preparing reminders to attorneys and clients as needed
Assist with miscellaneous client-related projects
JOB SKILLS & QUALIFICATIONS:
Undergraduate degree, preferably in a science or engineering discipline preferred such as chemistry, biology, chemical engineering, biochemistry, and other related major
Preferred interest in the legal profession, although that is not a requirement
Ability to quickly learn and utilize various software tools and systems including Microsoft Office suite, Adobe, Westlaw, IP databases, and other online resources
Ability to handle multiple projects under pressure, meet deadlines, and be a strong team player
Strong attention to detail, excellent communication, organizational, and interpersonal skills
Experience with U.S. patents and the USPTO is preferable, but not required
Contact
To apply, please email info@dowdscheffel.com. Applicants should submit a a resume, transcript(s), references, and any writing sample (if readily available).
Additional Info
Employer Type: Law Firm
Job Location: Washington, D.C.