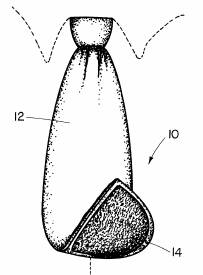 When worn, Josh Maggert's necktie appears identical to a conventional necktie. . . . Secretly, however, the necktie has a lint-brush backing. When Josh wants to remove lint from his shirt, he simply brushes the back of the tie over the offending debris. (U.S. Patent 6,170,085).
Read necktie history here.
David Johnson has written a history of the necktie. The Lemelson-MIT program provides resources for inventors. Thanks to Kevin Heller for his link to tiegate.