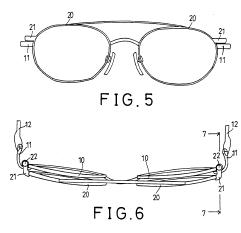 Aspex Eyewear v. Concepts in Optics (Fed. Cir. August 12, 2004) (not citable as precedent).
Aspex sued Concepts for infringement of its patented technology that covers a magnetically attachable auxillary lens for eyeglasses. (U.S. Patent No. RE 37,545 E). The district court granted summary judgment for the defendant based on a finding of invalidity under 35 USC 102 — finding that another person had invented the claimed eyeglasses before the critical date.
On appeal, the Appellate Panel reversed and remanded for two primary reasons:
1) drawings relied upon by the district court were not "printed publications" because there was no evidence of public availability; and
2) the testimony of prior public use (or "known … by others") was not incontestable on summary judgment.