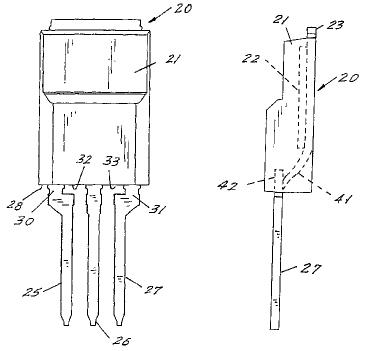 International Rectifier (IR) v. IXYS (Fed. Cir. 2004) (04-1014).
On the day that its patent issued, IR filed a patent infringement suit against IXYS. IR's patent relates to semiconductor device (MOSFET) packages having a higher current capacity without increased size. (U.S. Patent No. 6,476,481). The issue for appeal is "whether the [permanent] injunction granted the patentee is overly broad, and, if so, what is the proper remedy."
The Federal Circuit rejected the injunction because it was overly broad under Rule 65(d) of the Federal Rules of Civil Procedure.
In the patent infringement context, this court has rejected as overly broad a permanent injunction that simply prohibits future infringement of a patent. … [T]he trial court's injunction in this case does not meet the specificity requirements of Rule 65(d). The injunctive language set forth in the trial court's judgment prohibits infringement by "any device covered by one or more of Claims 1 through 5" of the '481 patent.
Thus, the Appellate Panel vacated the injunction entered by the trial court and remanded the case with instructions to issue an injunction that meets the specificity requirements of Rule 65(d).
Comment: One interesting dichotomy is that the International Trade Commission (ITC) commonly issues broad injunctions or import restrictions that prohibit unlicensed entry of products that infringe certain patents. For example, in the recent plastic bag case, the ITC issued a general exclusion order prohibiting the unlicensed entry of plastic grocery bags that infringe patent 5,188,235.