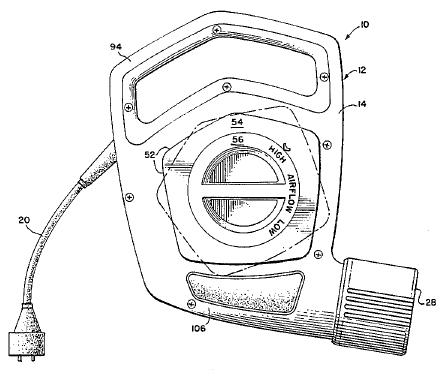 Toro v. White Consolidated (WCI) (Fed. Cir. 2004).
The Toro Company sued White for infringement of its patent on a leaf blower. (U.S. Patent No. 4,694,528). The Minnesota district court granted summary judgment of non-infringement under the doctrine of equivalents — finding that White's two-piece cover/ring was dedicated to the public in Toro's patent because it was disclosed, but not claimed. (Citing Johnson & Johnson v. R.E. Service). The Federal Circuit (LINN) agreed, finding that the disclosure of unclaimed subject matter "triggers the disclosure-dedication rule."
Because J&J had been decided after claim construction in this case, Toro also argued that the issues should be re-examined in light of the new law. The Appellate Panel Disagreed.
While Toro argues that Johnson & Johnston represents a change of law, its argument is misplaced. Johnson & Johnston did not alter our precedent as to claim construction, the issue at the crux of this case…. The doctrine of the law of the case is intended to prevent just the kind of speculation and second-guessing invited by the appellant here, in the broader interests of certainty, finality, and legal efficiency. The law is well-settled; decisions once made are not to be disregarded except for exceptional circumstances. Such circumstances are not evident here.
< ?xml:namespace prefix ="" o ns ="" "urn:schemas-microsoft-com:office:office" />