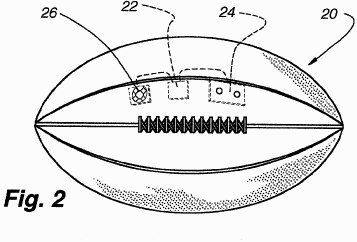 In re Oister (BPAI 2004).
On appeal to the Board of Patent Appeals and Interferences, the patent applicants argued that their "ball having integrated timers for measuring or counting at least one time period" was novel over the asserted prior art. The Board agreed that the device was patentable because the prior art did not use a predetermined countdown time period.
Sample Claim from the Patent Application:
21. An apparatus comprising:
a ball having a surface and at least one internal cavity;
at least one timer for measuring at least one predetermined time period; and
the timer integrated with the ball.
According to USPTO records, the patent application (10/014,297) is assigned to the Classic Sports Company of Denver.