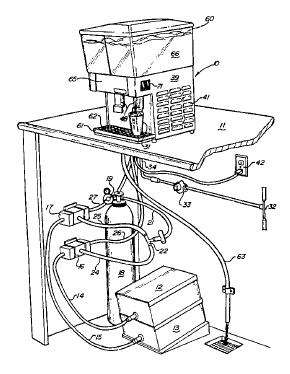 Juicy Whip v. Orange Bang (Fed Cir. 2004)
by Joseph Herndon
This is the latest appeal in the lengthy litigation between Juicy Whip and Orange Bang. (U.S. Patent No. 5,575,405). On remand to determine damages, the district court rejected Juicy Whip's argument that it would have sold more syrup "but for" Orange Bang's infringement. Juicy Whip appealed.
Juicy Whip claimed that there exists a functional relationship between its patented dispenser and the unpatented syrup, a link adequate to justify recovery of lost profits. The CAFC agreed and vacated the jury's award and remanded this case back to the district court for a third time to allow Juicy Whip to prove lost profits on its syrup sales.
The CAFC followed the "functional unit" test set forth in Rite-Hite, e.g., that the entire market value rule is a principle of patent damages that defines a patentee's ability to recover lost profits on unpatented components typically sold with a patented item, if both constitute a functional unit.
The CAFC found that Juicy Whip's dispenser and the syrup were analogous "to parts of a single assembly … as the syrup functions together with the dispenser to produce the visual appearance that is central to Juicy Whip's '405 patent." The Court explained that "a functional relationship between a patented device and an unpatented material used with it is not precluded [from profit determination] by the fact that the device can be used with other materials or that the unpatented material can be used with other devices."
Note: Joseph Herndon is a law clerk and at the intellectual property firm McDonnell Boehnen Hulbert & Berghoff and is a registered patent agent. Joe has a stellar background in electrical engineering and plans to graduate from law school in 2005. herndon@mbhb.com.